Alberttown businessman John Singh yesterday appeared before acting Chief Magistrate Priya Sewnarine-Beharry charged with rape.
The allegation is that between August 1 and August 31, 2010, Singh raped a female.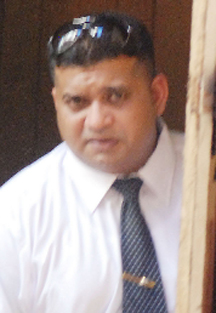 Singh was not required to plead to the indictable charge when it was read to him. He was admitted to bail in the sum of $150,000. The matter was transferred to Court Six for January 24.
Singh was in the news last year after he and his wife were accused of making offensive remarks to a former maid. After a stand-off, Singh eventually apologized for the remarks saying that they were not intended.
"We apologise for the racial remarks generally said towards the Amerindian people; we want to apologise. It is a fact that within the last 40 years of business we have been hiring people across the board… despite of what race, colour, religion or beliefs they may have and we are not here to change those trends. When we opened our doors 40 years ago we have been serving everyone equally across the board and we just want to say that in the height of frustration things were said. …My wife and I are officially apologizing for that," he added.
The businessman said some "serious allegations" were made against him and his wife which were all false and created "some degree of frustration and dark moments; the staining of a reputation as a business. I would have liked to see some of these allegations that are turning out to be untrue… addressed in all fairness to us [by those who have condemned us with their utterances]."
Comments

Prime Minister Moses Nagamootoo yesterday called on the Opposition to put to an end their dilatory tactic because it violates the standing order of the National Assembly.                    

(Trinidad Guardian) Stop embarrassing the Chinese government and people! That was Prime Minister Dr Keith Rowley's rebuke to the Opposition in Parliament yesterday, after being pressed on the change of plans for his China trip.

Despite the AFC's claim that it was not involved in the selection of a Guyana Elections Commission (Gecom) Chairman, its two senior leaders, Khemraj Ramjattan and Raphael Trotman, had advised President David Granger that he could utilise the constitutional proviso and make a unilateral appointment.

The National Assembly last evening approved over $8 billion in total budgetary allocations for 16 constitutional agencies even as the government's failure to properly account for cuts to requested expenditure drew criticism.

Opposition MPs were yesterday reprimanded by Speaker Dr Barton Scotland for their raucous behaviour on November 2nd, when they staged a protest that drowned out most of President David Granger's address to the National Assembly.