A teenaged boy who was electrocuted while trying to fix a light bulb on Monday, was not wearing a shirt at the time and an exposed wire reportedly fell on his chest.
Lashauna Husbands, an older sister of 13-year-old Eudell Fiedtkou of Lot 163 Unity Street, La Grange, West Bank Demerara, related that her brother was electrocuted while attempting to fix a light bulb and was pronounced dead on arrival at the West Demerara Regional Hospital.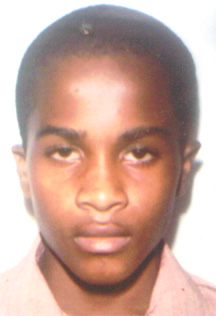 When Stabroek News visited the home yesterday, the child's mother, Orpha Husbands, was ill and unable to speak.
Lashauna Fiedtkou explained that the incident occurred around 19:00 hrs on Monday. She said that when he was shocked, the force of the electricity pitched him some 2-3 feet away. Husbands said the live wire landed on the teen's chest and as he was not wearing a shirt, it burned a hole through his skin. "The wire burnt his chest and like it seize up his heart instantly," she said.
She said her mother, after hearing her son scream, ran downstairs and started to hug and shake the boy's motionless body.
"I was across the road and I came over with a cousin and took him to the hospital where he was announced dead on arrival," Husbands recalled.
The saddened sister said it seemed as though Fiedtkou had a sign earlier of what occurred. "About four nights ago he dream a woman wearing all over white taking him away," she said, "and he was asking me after if it was an angel… Today [yesterday] when I went to see him, he look so peaceful like he was just ready to go," she said mournfully.
Husbands said her brother loved church, playing cricket and described him to be a very mannerly, funny, pleasant and intelligent child.
The second form student of Patentia Secondary School leaves to mourn his parents and six siblings.
Comments

Mashramani celebrations ground to halt for several families yesterday afternoon, when approximately 30 persons lost their homes after a fire of unknown origin ripped through three Victoria Road, Plaisance properties, including an apartment building.

Minister of State Joseph Harmon says that the US$3 million settlement offer made by Hong Kong Golden Telecom Limited (HKGT) on the outstanding balance for its purchase of government shares in the Guyana Telephone and Telegraph Company (GTT) is being actively considered, but the government's goal is to recover the entire US$5 million that is owed.

Opposition Leader Bharrat Jagdeo on Thursday criticised government and Minister of Finance Winston Jordan on the heels of the announced plan to borrow cash from local banks to reopen two sugar estates and to fund critical current and capital Guyana Sugar Corporation (GuySuCo) programmes.
The private sector is upbeat about the nearly three dozen-odd opportunities recently advertised in the oil and gas sector as it goes some way towards meeting local content needs, according to Private Sector Commission (PSC) Chairman Eddie Boyer.

'Black Panther,' the new Marvel Studios cinematic juggernaut opened in Guyanese theatres to overwhelming support on Thursday evening, which saw a large number of patrons turning out in African cultural display to mark the occasion.