The Old Students' Association of the Bishops' High School (BHSOSA) yesterday launched the third in a series of directories on the school.
At the Oswald Parry Hall, the committee members of the BHSOSA gave an overview of the features of the directory, while stating that the directories include brief histories of the school and the Association, including information on head teachers, head prefects, chapters and international reunions.
Each directory includes a description of one of the special collaborative initiatives of the school and the BHSOSA, such as their CARICOM Programme and the Lower Sixth Programme.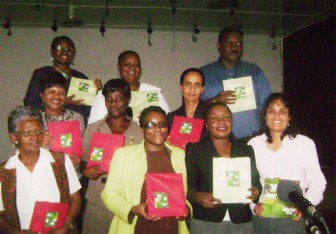 Special features, including profiles of former students who have served locally and internationally, are also included in the directories .These profiles provide insight into the range of occupations which have been pursued by alumni, possible educational pursuits and the voluntary activities which have been carried out.
Speaking at the ceremony, Cathy Hughes stated that the directory is a valuable networking tool for alumni and the wider public as well as a motivational one for the current students and young people who are contemplating the beginning of their career. "The publication of the directory is more like historical information. I believe this directory is a powerhouse of information of the skills any employer can take advantage of," she said.
The sponsors of the project were given directories during the launch. These included Citizens Bank Guyana Inc, Digicel Guyana, and Frandec Travel Service. Directories were also presented to the University of Guyana Library.
Comments

Admitting that it was he who advised President David Granger to not disclose the ExxonMobil US$18M signature bonus, Minister of Foreign Affairs, Carl Greenidge  yesterday said that he thought then and still believes that publicising of the deal holds serious implications for Guyana pertaining to the border controversy with Venezuela.
A miner was yesterday remanded to prison by a city Magistrate, after he was charged with the murder of a Venezuelan national, who was allegedly beaten to death last Friday evening.

Despite the Ministry of Public Health having stated its intention to end the contract for the rental of  the controversial Sussex Street bond, Minister Volda Lawrence confirmed last night that budgetary allocations have been made for its rental for the entire year of 2018.
The onus was on Minister of Natural Resources Raphael Trotman to tell President David Granger that he would be breaking the law if the US$18M bonus went anywhere else but to the Consolidated Fund, commentator and civil society activist Melinda Janki says.

Keeping information from the public only results in distrust and contracts for all of the country's natural resources should be published,  says Government's Petroleum Advisor Jan Mangal.