The Home Affairs Ministry on Monday  received several pieces of hardware and software from Country Repre-sentative of the Organisation of American States (OAS), Dennis Moses, and  the equipment will be used to gather and accept information on public security in Guyana.
The Government Informa-tion Agency (GINA) said in a press release that the next step will see the Ministry of Home Affairs in collaboration with the OAS  procuring the services of a public security data coordinator, who will man the project at the ministry to ensure that the relevant data is collected and could be readily accessed for use by law enforcement agencies.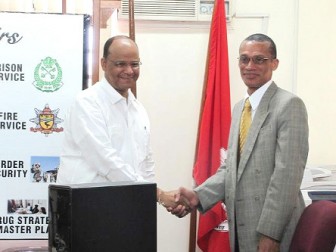 "We need to see this project as part of the improvement in the architecture of Guyana, particularly with respect to public safety and security.
This project ought not to be seen in isolation; but as part and parcel of government's move to bring a greater sense of structure to local law enforcement agencies,"  Home Affairs Minister Clement  Rohee is quoted as saying. The equipment comes as part of the cooperation agreement signed between the two parties in June.
This  agreement is one of OAS' projects funded by the Canadian Government to assist Caribbean nations in strengthening, establishing and implementing policies to fight crime and violence, the release noted.
Rohee in accepting the equipment said that its presentation brings the ministry a step closer to the realisation of the establishment of the Public Security Observatory, which will complement the work of the Crime and Social Observatory  under the Inter-American Development Bank (IDB) funded Citizens' Security Programme.
Comments
An electrical contractor of Enmore/Hope, East Coast Demerara, who was robbed and shot about 1 pm today at Foulis, ECD, is presently admitted in a stable condition at a private medical institution in Georgetown, the police said today.

The recent poisoning of 18 bearing coconut trees by persons at Hope Estate was today condemned  by Minister of Agriculture, Noel Holder.
The Guyana Police Force is informing members of the public that in order to facilitate activities relating to the Mashramani float parade 2018 the following intersections will be closed to vehicular traffic from 6:00h until the end of the days' activities;Camp Street & Thomas land Albert Street & Wooldord Avenue Sandy Bobb & Vlissegen Road Sandy Bobb & J.B Singh Barr Street & Vlissengen Road Dowding & Vlissengen Road Station Street & Vlissengen Road Lamaha street & Vlissengen Road Woolford Avenue & Vlissengen Road Woolford & J.B Singh Anira & Irving Streets Laluni & Irving StreetsThe Following roads will also be closed to facilitate the float parade; u  Crown & Irving streets u  Almond & Irving Streets u  Forshaw & Irving Streets u  Church Street & Vlissengen Road u  North & Vlissengen Roads u  Regent Street & Vlissengen Road u  South & Vlissengen Road u  Brickdam & Vlissengen Road u  Homestretch Avenue & Vlissengen Road u  Hadfield & Vlissengen Road u  Mandela Avenue & Vlissengen Road  

(Trinidad Guardian) Joint police and Defence Force patrol camps are remaining in East Port-of-Spain permanently and will be supplemented as necessary, Minister in the Office of the Prime Minister Stuart Young says.

Auditor General Deodat Sharma says that he is awaiting some information from Homestretch Development Inc (HDI) before he completes his investigation of the controversial billion-dollar D'Urban Park Development Project.