TUNIS (Reuters) – A Tunisian court sentenced former president Zine al-Abidine Ben Ali in absentia yesterday to 35 years in jail, six months after his overthrow in a revolution helped to inspire the "Arab Spring".
Ben Ali, who has been in Saudi Arabia since he was forced from power, was found guilty after just one day of deliberation of theft and of illegally possessing jewellery and large sums of cash.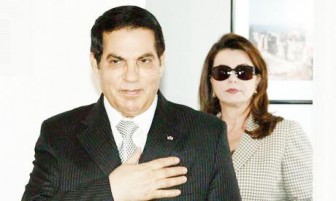 The same sentence was handed down to his wife Leila Trabelsi, a former hairdresser whose lavish lifestyle and clique of wealthy relatives were symbols of the corruption of the Ben Ali era for many Tunisians.
Ben Ali and his wife flew to Saudi Arabia on January 14 after mass protests against his 23-year rule. The Tunisian government said in February it had asked Saudi Arabia to extradite Ben Ali.
During his time in office, members of his extended family accumulated fortunes while his security forces routinely arrested anyone who dared to dissent.
Tunisia's revolt electrified millions across the Arab world who suffer similarly from high unemployment, rising prices and repressive governments. Ben Ali's case has been watched closely in Egypt, where former president Hosni Mubarak is due to stand trial over the killing of protesters.
In a statement issued by his lawyers earlier yesterday, Ben Ali denied all the charges against him, saying that he was the victim of a political plot. He said he had been tricked into leaving the country.
"What a moment," said Meriam, a student who was one of a handful of people waiting late into the evening outside the courthouse to hear the verdict. "After 23 years when he manipulated the courts, today a very fair court has returned to us a little bit of our honour."
"My brother was put in prison for nothing … and the other one was forced to stay in Europe in exile for nine years," she said. "This (verdict) gives us some peace."
Judge Touhami Hafian, who read out the verdict and sentence in the Palace of Justice in the Tunisian capital, also ruled that Ben Ali and his wife would have to pay fines totalling 91 million Tunisian dinars ($65.6 million).
The judge said the verdict on other charges, relating to illegal possession of drugs and weapons, would be handed down on June 30, according to a Reuters reporter who was in the courtroom.
During the hearing, a prosecutor had asked the judge to hand down "the most severe punishments for those who betrayed the trust and stole the money of the people for their personal gain …. They did not stop stealing for 23 years".
Ben Ali's defence lawyers refused to comment after the sentence was passed. Abderrazak Kilani, a senior lawyer who was not involved in the trial, told Reuters: "They have been given the heaviest sentence in this type of case."
Earlier, Ben Ali's lawyers had given the first detailed account of the events that led to his departure from Tunisia.
At the time, thousands of protesters had gathered in the centre of the capital Tunis to demand that he step down, the culmination of three weeks of demonstrations which police tried to disperse by firing on the crowds.
The statement issued by his lawyers said that the head of presidential security had come to Ben Ali in his office and told him that "friendly" foreign intelligence services had passed on information about a plot to assassinate the president.
Around the Web