MEXICO CITY, (Reuters) – Mexican police captured  the suspected leader of a cult-like drug cartel yesterday in  the latest blow to a gang that was until recently one of the  most notorious in the country.
Federal police arrested La Familia (The Family) boss Jose  de Jesus Mendez, known by his nickname "El Chango," or "The  Monkey", at a highway checkpoint in central Mexico, and no  shots were fired, the government and prosecutors said.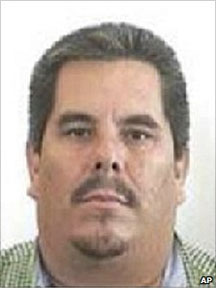 In a rare bloodless capture in Mexico's escalating war on  drug cartels, President Felipe Calderon's national security  spokesman said Mendez' arrest was a major victory and the end  of La Familia, which was infamous for beheading its enemies.
"With this capture, this criminal group is destroyed,"  Alejandro Poire told reporters, adding that Mendez was being  flown to Mexico City for questioning.
Mendez' detention follows the death last December of La  Familia's top boss, Nazario Moreno, known as "The Craziest  One," in a dramatic series of army raids that turned the  western state of Michoacan, La Familia's heartland, briefly  into a war zone littered with burning cars.
Despite the government's optimism, La Familia hitmen are  still at large and have split into factions since Moreno's  death.
Around the Web