MEXICO CITY, (Reuters) – Once praised lavishly by  the United States for waging a war on drugs, Mexico's last two  presidents now say legalizing them may be the best way to end  the rising violence the U.S.-backed campaign has unleashed.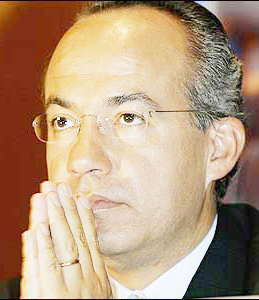 Ernesto Zedillo and Vicente Fox led efforts to crush drug  trafficking gangs in Mexico between 1994 and 2006 but the rapid  escalation of violence over the past four years under President  Felipe Calderon has convinced them a change of tack is needed.
"As a country, we are going through problems due to the  fact that the United States consumes too many drugs," the  68-year-old Fox told business leaders in Texas last month. "I  would recommend to legalize, de-penalize all drugs."
Though public support for some legalization is growing on  both sides of the border, resistance is firmly entrenched in  the U.S. government and analysts say Mexico is very unlikely to  liberalize its drug laws without Washington's approval.
Calderon is stuck between a rock and a hard place.
He has staked his reputation on breaking the cartels and is  unlikely to press for radical change in what remains of his  presidency but the death toll is surging and Zedillo, Fox and  other former Latin American leaders are pressuring Mexico to  consider opening up the market.
Victims' families are adding to the clamor for change.
Calderon has begun to soften the hard-line rhetoric that  won him allies in Washington, stressing his readiness to  discuss the merits of drug legalization.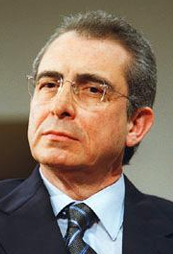 "I'm completely open to this debate. Not just on  consumption, but also on movement and production," he told a  meeting with victims' families in Mexico City on Thursday.
But he added: "This issue goes beyond national borders. If  there's no international agreement, it doesn't make sense."
Since he sent the army to fight the cartels in late 2006,  some 40,000 people have died. If the rate of killing persists,  the total will surpass U.S. combat deaths in the Vietnam War by  the time a new president is elected in mid-2012.
The United States was still fighting in Vietnam when  President Richard Nixon first declared a "war" against drug  trafficking and consumption. Forty years on, more and more  statesmen who have followed its course say the fight against  the cartels cannot be won by force either.
Zedillo was among the former Latin American leaders on the  Global Commission on Drug Policy which this month concluded the  drugs war had failed, urging Mexico and others to explore  regulation as a means of weakening the criminal gangs.
New rackets
Calderon insists his strategy has weakened the cartels and  that the capture of many prominent drug bosses has reduced the  threat that organized crime posed to the state.
But the violence has shocked many Mexicans and hit support  for Calderon and his conservative National Action Party, or  PAN. Polls suggest the PAN will be ousted at the presidential  election in July, 2012 by the opposition Institutional  Revolutionary Party, or PRI.
The PRI has pilloried Calderon for the growing lawlessness,  though it has yet to offer any radical alternative to defeating  the drug gangs, whose interests during the crackdown have grown  to encompass a host of new rackets.
The expansion of criminal activity has even prompted those  who back decriminalizing soft drugs — such as Mexico's Green  Party — to question how much legalization would achieve.
"Do you think the drug bosses will suddenly turn into  normal businessmen? Of course not, they'll just turn to other  sorts of crime like robbery, kidnapping and extortion," said  Arturo Escobar, a member of the Greens in the Senate.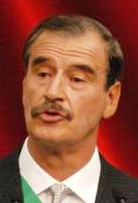 Mexicans have long been skeptical about legalizing drugs  but the country has decriminalized possession of small amounts  of soft and hard drugs under Calderon, and sympathy for a more  liberal tack has grown as the violence intensifies.
A national survey in August 2010 by daily Reforma showed 32  percent of Mexicans in favor of legalizing personal use of  marijuana. Barely two years earlier, in October 2008, support  for legalization was just 7 percent, pollster Parametria said.
Support in the United States now stands at 46 percent,  according to a Gallup poll published on Oct. 28.
Yet despite support from some libertarians, a recent shift  to the right in U.S. politics has made it tough to sell the  idea before a 2012 presidential vote in both countries.
"If Mexico legalized, the U.S. Congress would use every  piece of pressure it has to oppose them," said Rodolfo de la  Garza, a political scientist at Columbia University. "We will  hit them economically. We will start messing with NAFTA. We  will hammer them on migrants. Much more than we are already."
Drug demand is driven by the United States, and Fox this  month stepped up calls for legalization, arguing that  Washington's $1.4 billion in drug war aid was nothing but a  "tip" in compensation for Mexico's losses in the war.
The United Nations Office on Drugs and Crime says the  global drugs trade is worth hundreds of billions of dollars and  in 2009 a top official at the agency said traffickers' cash had  helped prop up the banks during the financial crisis.
Legalizing drugs would generate some $88 billion a year in  savings and tax revenue for U.S. federal and state governments,  according to Harvard University economist Jeffrey Miron.
As long as public budgets remained stretched, pressure is  likely to grow on governments to regulate the market, said  Daniel Okrent, the author of "Last Call – The Rise and Fall of  Prohibition," a study of the era of U.S. alcohol prohibition.
"Prohibition ended because of The Depression. The federal  government was in desperate need for cash and the country  needed jobs," said Okrent. "This and the unwillingness to pay  taxes is one of the reasons why there will be legalization."
Around the Web