DAR ES SALAAM,  (Reuters) – The U.N. war crimes  tribunal for Rwanda sentenced former minister Pauline  Nyiramasuhuko to life in prison on Friday, the first time a  woman has been found guilty of genocide by an international  court.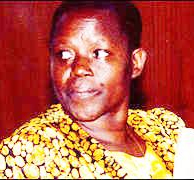 The International Criminal Tribunal for Rwanda (ICTR) found  Pauline Nyiramasuhuko and her son, Arsene Shalom Ntahobali, who  was also jailed for life, guilty of atrocities committed in  Rwanda's southern Butare region during the 1994 massacre.
"The chamber convicts Pauline Nyiramasuhuko of conspiracy to  commit genocide, crimes against humanity, extermination, rape,  persecution and … and violence to life and outrages upon  personal dignity," read the ruling by the trial's three judges.
"She is sentenced to life imprisonment."
Nyiramasuhuko, 65, and a former families minister, was found  guilty of seven out of 11 charges. The trial lasted 10 years.
Ethnic Hutu militia and soldiers butchered 800,000 minority  Tutsis and politically moderate Hutus over 100 days between  April and June 1994.
In its verdict, the court said Nyiramasuhuko was guilty of  genocide and extermination as a crime against humanity for  ordering the killing of scores of Tutsis taking refuge from the  slaughter at a local government office in Butare.
"Hoping to find safety and security, they instead found  themselves subject to abductions, rapes, and murder.
The  evidence … paints a clear picture of unfathomable depravity  and sadism," said the judgment read out by presiding Judge  William Sekule.
The tribunal, based in Arusha, northern Tanzania, had  allowed the rape charge to be added on grounds that the accused  knew her subordinates were raping Tutsi women and failed to take  measures to prevent or punish them.
"It's shocking that this mother and former social worker,  trained to protect life, could instead have been responsible for  such appalling crimes," said Freddy Mutanguha, Rwandan Country  Director for the Aegis Trust, the genocide prevention  organisation responsible for the Kigali Genocide Memorial.
Around the Web