KIEV (Reuters) – Former Ukrainian prime minister Yulia Tymoshenko must stand trial next Wednesday on a charge of abuse of power, a judge ruled in a pre-trial hearing late yesterday.
The charge carries a jail term of at least seven years.
Judge Rodion Kyriyev threw out objections by Tymoshenko and her defence that the charge against her was politically motivated and that President Viktor Yanukovich was behind it.
Earlier, the 50-year-old political firebrand had continued to argue that the accusation against her, which relates to the signing of a 2009 gas deal with Russia when she was in power, was part of a wider political plot.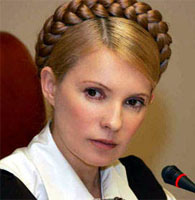 "The aim of this trial is the liquidation of a working opposition in Ukraine," she said, before Kyriyev handed down his ruling.
"Consideration of the case is set for June 29 at 10 am," Kyriyev declared, after emerging from deliberations.
Tymoshenko, twice prime minister and now in opposition, has alleged Yanukovich, her bitter political foe, was the instigator of a crooked court action that was certain to convict her.
Though Western governments have not come down publicly on her side, visiting EU politicians have told the Yanukovich leadership they are concerned over the possible use of "selective justice" in Ukraine.
The gas supply agreement ended a stand-off between Russia and its ex-Soviet neighbour over the pricing of Russian gas which had led to supplies being cut off to Western Europe. It has since been denounced by the Yanukovich leadership as a sell-out, though Kiev is continuing to observe it.
The prosecution alleges that Tymoshenko, without consulting her government, forced the then-head of state energy firm Naftogaz to sign the gas deal with Russia's Gazprom. She denies this.
"I did not break the law so where is the basis for the 7-10 years sentence which our 'bought' state prosecutor wants pronounced against me?" she asked yesterday before the judge made his ruling.
While a few hundred of her supporters braved torrential rain on the streets of Kiev to express their solidarity, Tymoshenko used her oratory in the courtroom to berate Kyriyev, whom she denounced on Friday as a Yanukovich "puppet."
Around the Web