THE HAGUE/TRIPOLI (Reuters) – The International Criminal Court issued an arrest warrant yesterday for Libyan leader Muammar Gaddafi, and rebels trying to oust him said their forces had advanced to within 80 km (50 miles) of the capital.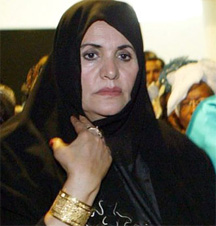 The Hague-based court approved warrants for Gaddafi, his son Saif al-Islam and Libyan intelligence chief Abdullah al-Senussi on charges of crimes against humanity. ICC prosecutors allege they were involved in the killing of civilian protesters who rose up in February against Gaddafi's 41-year rule.
"To prevent them covering up ongoing crimes and committing new crimes, they should be arrested. This is the only way to protect civilians in Libya," said ICC prosecutor Luis Moreno-Ocampo, who had sought the arrest warrants.
Reading out the warrant at the court in The Hague, presiding judge Sanji Mmasenono Monageng said Saif al-Islam Gaddafi was accused of having "conceived and orchestrated a plan to deter and quell by all means the civilian demonstrations". Senussi was accused of using his position to have attacks carried out.
However the warrant is unlikely to lead to Gaddafi's arrest as long he remains in power and inside Libya, because the court does not have the power to enforce its warrants.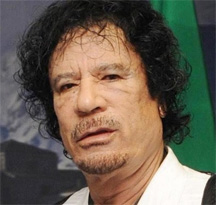 "Libya … does not accept the decisions of the ICC which is a tool of the Western world to prosecute leaders in the Third World," Justice Minister Mohammed al-Qamoodi said.
"The leader of the revolution and his son do not hold any official position in the Libyan government and therefore they have no connection to the claims of the ICC against them," Qamoodi told a Tripoli news conference.
Gaddafi's government says he holds no formal post despite ruling for 41 years. The administration has denied targeting civilians, saying it has taken justified military action against armed criminal gangs and al Qaeda militants.
Celebrations erupted in the rebel-held city of Benghazi, in eastern Libya, after the ICC's decision. Insurgent officials said the move meant negotiations with Gaddafi were impossible.
"After this warrant, it is all irrelevant. We cannot negotiate with war criminals," Jalal al-Galal, spokesman of the rebel National Transitional Council (NTC) told Reuters.
The move also was welcomed by NATO and alliance members.
"It's another indication that Muammar Gaddafi has lost his legitimacy," White House spokesman Jay Carney said.
In a separate blow to the Gaddafi family, Western diplomats said a UN Security Council sanctions committee had banned Gaddafi's wife from travelling outside Libya.
Although Gaddafi and other members of his family have been on a UN blacklist since February, Russia had blocked the inclusion of Gaddafi's wife Safia on the list of individuals facing a travel ban and asset freeze until last week.
Anti-Gaddafi rebels, based in the Western Mountains region southwest of Tripoli, made their biggest breakthrough in weeks to reach the town of Bir al-Ghanam, where they are now fighting pro-Gaddafi forces for control, their spokesman said.
The move took them 30 km (18 miles) north of their previous position and closer to Tripoli, Gaddafi's main power base.
"There were battles there most of yesterday," Juma Ibrahim, a rebel spokesman, said by telephone.
"Some of our fighters were martyred and they (government forces) also suffered casualties and we captured equipment and vehicles. It's quiet there today and the rebels are still in their positions," he said from the nearby town of Zintan.
The rebels have been battling Gaddafi's forces since late February, when thousands of people rebelled, prompting a fierce crackdown by Gaddafi's security forces.
The revolt has turned into the bloodiest of the Arab Spring uprisings against autocratic rulers across the Middle East.
In Nalut district by the Tunisian border, rebels said power and water infrastructure had been hit by pro-Gaddafi bombing.
"There is a crisis here," a spokesman, identified as Mohammed, said. "We are without electricity after the brigades hit high-voltage electricity posts … and the power problem affected water supplies."
Around the Web