LOS ANGELES (Reuters) – An asteroid with an estimated girth as large as a garbage truck soared within 7,500 miles (12,070 km) of the Earth yesterday as it passed harmlessly over the Atlantic Ocean, according to NASA's Jet Propulsion Laboratory (JPL).
The space rock, measuring 5 to 20 metres (16 to 82 feet) in diameter, followed the same near-Earth path that scientists had earlier predicted, looping around the planet in a boomerang-shaped trajectory, JPL spokesman DC Agle said.
Its nearest approach to Earth, about 7,500 miles, was 30 times farther away than the International Space Station, which orbits the planet at a distance of 250 miles (400 km).
On a more celestial scale, the asteroid's closest distance to Earth was just 3 per cent of the 250,000 miles separating the Earth from the moon.
An object about the same size as yesterday's near-Earth asteroid, designated by scientists as 2011 MD, zips past the planet at about the same distance every six years, according to JPL.
Even if an asteroid the size of 2011 MD ever entered the Earth's atmosphere, it would likely burn up and cause no damage to the planet, JPL said.
Comments

Moruga/Tableland MP Dr Lovell Francis chats with two of his constituents whose yard was flooded following heavy overnight rains into yesterday.
CARACAS/PUERTO ORDAZ, Venezuela (Reuters) – Venezuela's opposition refused on Wednesday to swear in newly-elected governors before a pro-government legislative superbody it deems unconstitutional, as a small protest broke out in southern Bolivar state over fraud allegations.
BEIRUT (Reuters) – Iran's military chief warned Israel against breaching Syrian airspace and territory on a visit to Damascus on Wednesday, raising tensions with Israel as it voices deep concern over Tehran's influence in Syria.
WASHINGTON (Reuters) – A bipartisan deal from two senators to stabilize Obamacare by restoring subsidies to health insurers suffered major setbacks on Wednesday with the White House saying President Donald Trump now opposes it and senior Republicans speaking out against it.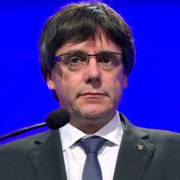 MADRID (Reuters) – Spain's political showdown with Catalonia is set to reach a new level on Thursday when political leaders in Madrid and Barcelona are expected to make good on pledges made to their supporters to stick to their tough positions over the region's future.