WASHINGTON, (Reuters) – French Finance Minister  Christine Lagarde yesterday clinched the top job at the IMF,  keeping the international lender in the hands of a European at  a time of growing concern over a possible Greek debt default.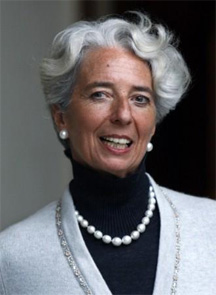 Lagarde, who starts her five-year term as managing director  on July 5, will find herself immediately immersed in efforts by  the IMF and European Union to head off a Greek default that  could touch off an international crisis.
Minutes after her appointment, Lagarde pressed Greece to  move quickly to push through unpopular austerity measures that  the IMF and EU say are a prerequisite for further aid.
"If I have one message tonight about Greece, it is to call  on the Greek political opposition to support the party that is  currently in power in a spirit of national unity," she told TF1  television.
Global stocks rose and the euro rallied as financial  markets grew increasingly confident Greece's parliament would  approve the five-year austerity program this week, which would  unleash a 12 billion euro aid tranche from the IMF and EU. Read  more at
Lagarde, 55, the first woman to head the IMF, succeeds  Dominique Strauss-Kahn, who resigned from the IMF in May to  defend himself against charges of sexual assault against a New  York hotel maid. He denies the charges.
Her skills as a tough negotiator with a reputation for  sealing deals under pressure will carry weight as she moves  from defending France's economic interests to overseeing a  global institution that must be seen as a neutral player around  the world. Read more at
The succession race was one of the most hotly contested in  IMF history as emerging market nations expressed displeasure  with the 64-year tradition of having a European head the IMF  and an American lead its sister institution, the World Bank.
In a Financial Times blog post, Mohamed El-Erian, chief  executive of Pimco, the world's largest bond investor, said  Lagarde would need to show the IMF's efforts to help distressed  European countries were not politically motivated.
He said she would need to prepare for the possibility the  IMF could face losses from the large bailout loans it made in  recent years, including 30 billion euros for Greece.
Lagarde must also show a commitment to meritocracy by  eliminating some nationality-based appointments, El-Erian  added, citing the No.2 position at the fund which traditionally  goes to an American.
Washington is already considering naming White House  advisor David Lipton to succeed John Lipsky as IMF second in  command at the end of August, according to sources close to the  discussions. For story, see
FINDING CONSENSUS
Lagarde's selection over Mexico's Central Bank Governor  Agustin Carstens was assured after the United States made its  support clear, and emerging market economies China, Brazil,  India and Russia did the same.
French President Nicolas Sarkozy called the news of  Lagarde's appointment "a victory for France."
Around the Web