MEXICO CITY,  (Reuters) – Mexico has increased  security spending six-fold in the past five years but  carjackings, kidnappings and other violent crime are rising  steadily, an independent study showed yesterday.
Think tank Mexico Evalua said corruption and poor  coordination between authorities had nullified the impact of  higher spending, largely under President Felipe Calderon, who  sent in the army to crush Mexico's drug cartels in late 2006.
"Things are not improving," Edna Jaime, director general of  Mexico Evalua, told a news conference in Mexico City.
According to the think tank, Mexican public sector spending  on security has leaped from an average of less than 20 billion  pesos ($1.7 billion) annually in the first six years of the  millennium to more than 120 billion in the last two.
In spite of added spending, data published by the think  tank showed that violent robbery and car theft have risen  steadily in the last six years.
Drug-related killings have accelerated in Mexico in the  last few years, with a record 15,000 lives lost in 2010 alone,  according to official data.
Eduardo Guerrero of consultancy Lantia Consultores, who  worked on the study, said some of the extra cash was not even  released by state governments because they were afraid it would  end up in the hands of corrupt police working for criminals.
"It's like throwing money down a hole," he said.
Juan Pardinas of the Mexican Institute for Competitiveness  (IMCO), said regional governments were failing to provide the  state with enough information to tackle crime properly.
"The main crisis we're seeing in Mexico is not the problem  of public security, it's the malfunctioning of Mexican  federalism," he said. "We're not managing to coordinate at the  different levels of government."
Comments

Moruga/Tableland MP Dr Lovell Francis chats with two of his constituents whose yard was flooded following heavy overnight rains into yesterday.
CARACAS/PUERTO ORDAZ, Venezuela (Reuters) – Venezuela's opposition refused on Wednesday to swear in newly-elected governors before a pro-government legislative superbody it deems unconstitutional, as a small protest broke out in southern Bolivar state over fraud allegations.
BEIRUT (Reuters) – Iran's military chief warned Israel against breaching Syrian airspace and territory on a visit to Damascus on Wednesday, raising tensions with Israel as it voices deep concern over Tehran's influence in Syria.
WASHINGTON (Reuters) – A bipartisan deal from two senators to stabilize Obamacare by restoring subsidies to health insurers suffered major setbacks on Wednesday with the White House saying President Donald Trump now opposes it and senior Republicans speaking out against it.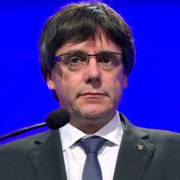 MADRID (Reuters) – Spain's political showdown with Catalonia is set to reach a new level on Thursday when political leaders in Madrid and Barcelona are expected to make good on pledges made to their supporters to stick to their tough positions over the region's future.