ATHENS,  (Reuters) – Greece approved the first of two  austerity measures yesterday despite worsening street  violence, in a vote vital to winning fresh international aid so  it can pay its debts on time and stave off bankruptcy.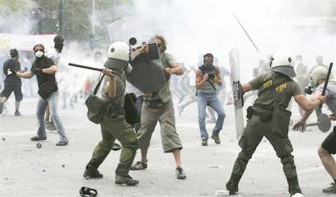 Lawmakers voted by a clear margin for the five-year framework  of $28 billion in spending cuts, tax rises and state asset sales,  handing a 155-138 vote victory to Prime Minister George  Papandreou.
"We must avoid the country's collapse at all costs. Now is  not the time to step back," the Socialist premier told lawmakers  just before the vote.
The solid margin suggested the government should be able to  push through a second package of laws on Thursday, implementing  the specific budget measures and asset sales. This would clear  the last obstacle to release of 12 billion euros ($17.3 billion)  of emergency loans from the International Monetary Fund and  European Union, which are essential to meet debt payments by  mid-July.
Relief that Greece could avert sovereign default buoyed  financial markets. Investors moved from safe-haven assets such as  U.S. Treasuries and world stocks advanced for the third straight  day. The euro rallied 0.4 percent to trade around $1.4430.
But optimism was muted. It remains unclear whether the  government will be able to actually implement the deeply  unpopular cuts required to meet a tight schedule imposed by the  EU and IMF before the next round of bailout funds are needed.
"There are still a lot of unanswered questions about the  effective implementation of austerity measures, given the  backdrop of increasing public anger in Greece," said Omer Esiner,  chief market analyst at Commonwealth Foreign Exchange in  Washington.
The full pain of pay and benefit cuts and sharp tax increases  has yet to be felt, and public anger already is boiling.
Outside parliament, there were clashes between  stone-throwing masked youths and riot police, who fired clouds  of tear gas from behind steel crash barriers to keep rioters at  bay. Fires broke out in buildings and a party spokesman said a  metro station was "a gas chamber."
Around the Web