CARACAS, (Reuters) – Venezuela called off a  regional summit due to Hugo Chavez's unexpectedly longer  recovery from surgery in Cuba, hours after releasing video on  Wednesday of the socialist leader chatting with Fidel Castro.
The cancellation was a big blow for supporters of the  charismatic but authoritarian Venezuelan president, who had  hoped return to host the July 5-6 meeting, which coincides with  the South American nation's 200th anniversary of independence.
Chavez, 56, likes to grandstand at big events and had been  planning a national party, with various heads of state in tow.
His government said the meeting of Latin American and  Caribbean leaders was off for "force majeure" reasons.  "Comandante Hugo Chavez Frias is in the middle of a process of  recovery and extremely strict medical treatment," it said.
The statement said the Community of Latin American and  Caribbean States (CELAC) summit would be rescheduled for the  second half of the year.
In the new video footage released earlier on Wednesday,  Chavez appeared back to his chatty self in an encounter in Cuba  with Castro, his close friend and political mentor, aimed at  tempering rumors he is seriously ill.
Chavez's absence has convulsed politics at home and spawned  a frenzy of speculation over the future of his "revolution".
Unlike brief extracts shown before, Chavez was heard  talking this time, discussing regional politics and stories in  Tuesday's edition of the Cuban Communist Party daily Granma.
"Look how Fidel is reading, without spectacles. Me, too,  though with a bit of trouble!" an animated-looking Chavez joked  with the 84-year-old Castro after the pair were seen strolling  in a garden, presumed to be at Havana's Cimeq hospital.
Chavez, who has become one of the world's best-known but  controversial leaders during his 12 years in power,
disappeared  from public view after surgery in Cuba
on June 10.
Comments

Moruga/Tableland MP Dr Lovell Francis chats with two of his constituents whose yard was flooded following heavy overnight rains into yesterday.
CARACAS/PUERTO ORDAZ, Venezuela (Reuters) – Venezuela's opposition refused on Wednesday to swear in newly-elected governors before a pro-government legislative superbody it deems unconstitutional, as a small protest broke out in southern Bolivar state over fraud allegations.
BEIRUT (Reuters) – Iran's military chief warned Israel against breaching Syrian airspace and territory on a visit to Damascus on Wednesday, raising tensions with Israel as it voices deep concern over Tehran's influence in Syria.
WASHINGTON (Reuters) – A bipartisan deal from two senators to stabilize Obamacare by restoring subsidies to health insurers suffered major setbacks on Wednesday with the White House saying President Donald Trump now opposes it and senior Republicans speaking out against it.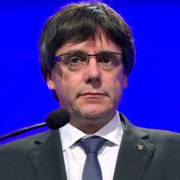 MADRID (Reuters) – Spain's political showdown with Catalonia is set to reach a new level on Thursday when political leaders in Madrid and Barcelona are expected to make good on pledges made to their supporters to stick to their tough positions over the region's future.