CARACAS, (Reuters) – Venezuela called off a  regional summit due to Hugo Chavez's unexpectedly longer  recovery from surgery in Cuba, hours after releasing video on  Wednesday of the socialist leader chatting with Fidel Castro.
The cancellation was a big blow for supporters of the  charismatic but authoritarian Venezuelan president, who had  hoped return to host the July 5-6 meeting, which coincides with  the South American nation's 200th anniversary of independence.
Chavez, 56, likes to grandstand at big events and had been  planning a national party, with various heads of state in tow.
His government said the meeting of Latin American and  Caribbean leaders was off for "force majeure" reasons.  "Comandante Hugo Chavez Frias is in the middle of a process of  recovery and extremely strict medical treatment," it said.
The statement said the Community of Latin American and  Caribbean States (CELAC) summit would be rescheduled for the  second half of the year.
In the new video footage released earlier on Wednesday,  Chavez appeared back to his chatty self in an encounter in Cuba  with Castro, his close friend and political mentor, aimed at  tempering rumors he is seriously ill.
Chavez's absence has convulsed politics at home and spawned  a frenzy of speculation over the future of his "revolution".
Unlike brief extracts shown before, Chavez was heard  talking this time, discussing regional politics and stories in  Tuesday's edition of the Cuban Communist Party daily Granma.
"Look how Fidel is reading, without spectacles. Me, too,  though with a bit of trouble!" an animated-looking Chavez joked  with the 84-year-old Castro after the pair were seen strolling  in a garden, presumed to be at Havana's Cimeq hospital.
Chavez, who has become one of the world's best-known but  controversial leaders during his 12 years in power,
disappeared  from public view after surgery in Cuba
on June 10.
Comments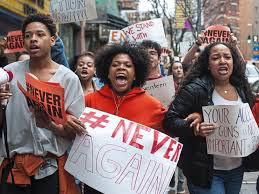 (Reuters) – In the week since 17 of David Hogg's classmates and teachers were gunned down in Florida, he and his fellow high schoolers have launched a movement that reshaped the gun control debate almost overnight and may influence the US midterm elections.
BEIRUT/UNITED NATIONS (Reuters) – The UN Security Council on Saturday demanded a 30-day truce across Syria as rescuers in the country's eastern Ghouta region said bombing had not let up long enough for them to count bodies during one of the bloodiest air assaults of the seven-year war.
WASHINGTON (Reuters) – The Democratic minority on the US House of Representatives Intelligence Committee on Saturday released a response to Republican charges that the FBI and Justice Department have abused the law in their investigation of possible ties between Russia and Donald Trump's 2016 presidential campaign.
BEIJING (Reuters) – China reacted with anger on Saturday to new US sanctions aimed at increasing pressure on nuclear-equipped North Korea, saying the unilateral targeting of Chinese firms and people risked harming cooperation on the problem.
NEW YORK (Reuters) – Delta Air Lines and United Airlines on Saturday became the latest major corporations to sever marketing ties with the National Rifle Association as the fallout from last week's massacre at a Florida high school took its toll on the gun advocacy group.