BEIRUT,  (Reuters) – A U.N.-backed tribunal seeking  the killers of statesman Rafik al-Hariri handed indictments and  arrest warrants to Lebanon yesterday that officials said  accused members of the militant Hezbollah group of involvement.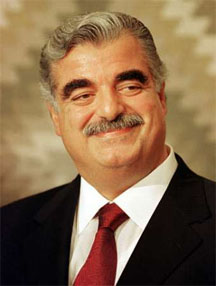 The long-awaited move was hailed as a "historic moment" by  Hariri's son, opposition leader Saad al-Hariri, but poses an  immediate challenge to the new government of Najib Mikati whose  cabinet is dominated by Hezbollah allies.
Prosecutor Saeed Mirza gave no details of the indictments.  Lebanese officials said four warrants were issued for Hezbollah  members including senior leader Mustafa Badreddine, who was  jailed in Kuwait over a series of bombings in 1983 and is a  brother-in-law of slain Hezbollah commander Imad Moughniyeh.
The assassination on Feb. 14, 2005 plunged Lebanon into a  series of political crises, killings and bombings which led to  sectarian clashes in May 2008, dragging the country back to the  brink of civil war.
United Nations Secretary-General Ban Ki-moon called on  nations to support the tribunal, a hybrid international and  Lebanese court established under Chapter Seven of the U.N.  charter, granting the U.N. wide powers to address violations.
But a Hezbollah television station said the indictments  showed that the tribunal was politicised.
Analysts said Mikati, whose government has yet to win a  confidence vote in parliament, now faces irreconcilable demands  from Hariri's domestic and international allies — who want  Lebanon to comply with the court — and the majority of his  cabinet who reject any cooperation with it.
Lebanese analyst Oussama Safa said that refusal to comply  would lead to Lebanon's isolation. "Now the government of Mikati  has to decide what it is going to do. If it does not cooperate  it risks putting Lebanon in trouble," he said.
The United States welcomed the delivery of the indictments,  saying it marked "an important step towards justice and ending  impunity for political assassinations in Lebanon".
State Department spokesman Mark Toner said Lebanon's  government should now hand them over to the special prosecutor.
"We're looking for it to take action," he said.
The other three suspects were named by Lebanese officials as  Salim Jamil Ayyash, Hassan Issa and Assad Sabra. It was not  clear how many belonged to Hezbollah or what positions they  held.
Hezbollah, both a Shi'ite Muslim political movement and  guerrilla army, denies any role in the huge explosion on the  Beirut seafront which killed Hariri and 22 others.
There have been fears in Lebanon that indictments of  Hezbollah members over the assassination of the prominent Sunni  Muslim leader, who was prime minister for several terms between  1992 and 2004, could raise sectarian tensions between factions  still struggling with the legacy of its 1975-90 civil war.
Mikati urged Lebanese to be "reasonable and far-sighted" to  ensure that "those who want to target the country and push us  towards strife miss their chance".
Comments

JOHANNESBURG,  (Reuters) – South Africa's Jacob Zuma gave his last speech as African National Congress head yesterday, as the only party in power since the end of apartheid prepared to pick its next leader, and likely future president, in a vote that was too close to call.
BOGOTA (Reuters) – Colombia on Tuesday fined cement companies Cementos Argos, Cemex and Holcim, along with some of its managers, more than 200 billion pesos ($66 million) for fixing prices.
TORONTO, (Reuters) – Canadian police are investigating the mysterious deaths of pharmaceuticals billionaire Barry Sherman, founder of Apotex Inc, and his wife Honey, whose bodies were found in their Toronto mansion on Friday.

WASHINGTON,  (Reuters) – Congressional Republicans yesterday unveiled the final version of their dramatic U.S.

TORONTO, (Reuters) – Canadian police said they were investigating the mysterious deaths of the billionaire founder of Canadian pharmaceutical firm Apotex Inc, Barry Sherman, and his wife, Honey, who were found dead in their Toronto mansion yesterday.