NEW YORK, (Reuters) – Cable news channel MSNBC  suspended political analyst Mark Halperin on Thursday hours  after he used foul language to describe U.S. President Barack  Obama on national television.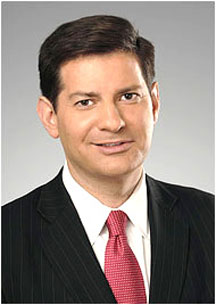 When asked on MSNBC's "Morning Joe" program what he thought  of Obama's news conference on the budget the day before,  Halperin replied: "Are we on the seven-second delay today?"  before adding, "I thought he was kind of a dick yesterday."
Realizing his remark was not bleeped out by the show's  producers, he quickly apologized.
But the cable news network said Halperin was suspended  indefinitely from his analyst role.
"Mark Halperin's comments this morning were completely  inappropriate and unacceptable. We apologize to the President,  The White House and all of our viewers. We strive for a high  level of discourse and comments like these have no place on our  air," MSNBC said in a statement.
During his news conference, Obama compared Senate  Republicans to lazy schoolchildren as he urged Congress to get  cracking on federal budget and deficit legislation.
Halperin said in a statement he agreed with MSNBC.
"I believe that the step they are taking in response is  totally appropriate," he said. "My remark was unacceptable, and  I deeply regret it."
MSNBC has suspended others in the past, including talk show  host Keith Olbermann last year for campaign donations to  Democrats. Olbermann later left the channel.
Comments

WASHINGTON,  (Reuters) – A U.S. government shutdown will enter its third day today as Senate negotiators failed to reach a deal late on Sunday on Democrats' demand for legislation protecting "Dreamers," young people brought to the country illegally as children.
AZAZ, Syria,  (Reuters) – Turkey's army and rebel allies battled U.S.-backed Kurdish militia in Syria's Afrin province on Sunday, stepping up a two-day-old campaign against YPG fighters that has opened a new front in Syria's civil war.
KABUL,  (Reuters) – Gunmen in army uniforms who stormed Kabul's Intercontinental Hotel late on Saturday and battled Afghan Special Forces through the night killed more than 30 people and wounded many more, although the final toll of dead and wounded may still be higher.
WASHINGTON,  (Reuters) – U.S. lawmakers are urging AT&T Inc, the No. 2 wireless carrier, to cut all commercial ties to Chinese phone maker Huawei Technologies Co Ltd and oppose plans by telecom operator China Mobile Ltd to enter the U.S.
BEIJING, (Reuters) – China's top newspaper, decrying Washington as a trouble-maker, said yesterday U.S.