NEW YORK, (Reuters) – Cable news channel MSNBC  suspended political analyst Mark Halperin on Thursday hours  after he used foul language to describe U.S. President Barack  Obama on national television.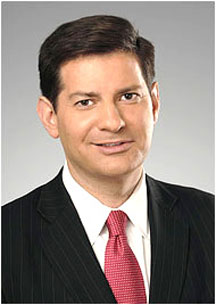 When asked on MSNBC's "Morning Joe" program what he thought  of Obama's news conference on the budget the day before,  Halperin replied: "Are we on the seven-second delay today?"  before adding, "I thought he was kind of a dick yesterday."
Realizing his remark was not bleeped out by the show's  producers, he quickly apologized.
But the cable news network said Halperin was suspended  indefinitely from his analyst role.
"Mark Halperin's comments this morning were completely  inappropriate and unacceptable. We apologize to the President,  The White House and all of our viewers. We strive for a high  level of discourse and comments like these have no place on our  air," MSNBC said in a statement.
During his news conference, Obama compared Senate  Republicans to lazy schoolchildren as he urged Congress to get  cracking on federal budget and deficit legislation.
Halperin said in a statement he agreed with MSNBC.
"I believe that the step they are taking in response is  totally appropriate," he said. "My remark was unacceptable, and  I deeply regret it."
MSNBC has suspended others in the past, including talk show  host Keith Olbermann last year for campaign donations to  Democrats. Olbermann later left the channel.
Comments
NEW YORK, (Reuters) – Former U.S. President Jimmy Carter said he would be willing to travel to North Korea on behalf of the Trump administration to help diffuse rising tensions, The New York Times reported on its website yesterday.

BUENOS AIRES,  (Reuters) – Candidates allied with Argentine President Mauricio Macri enjoyed sweeping victories in yesterday's mid-term election, strengthening his position in Congress while dimming prospects for a political comeback by his predecessor Cristina Fernandez.
WASHINGTON,  (Reuters) – U.S. senators said yesterday the White House has not been forthcoming with details about the military's presence in Niger after the deaths of four soldiers there earlier this month and they want more answers on U.S.
TOKYO,  (Reuters) – Japanese Prime Minister Shinzo Abe's ruling bloc scored a big win in yesterday's election, bolstering his chance of becoming the nation's longest-serving premier and re-energising his push to revise the pacifist constitution.

WASHINGTON (Reuters) – US President Donald Trump defended his regular use of social media, especially Twitter, and said he may not have won the White House without it.