CARACAS (Reuters) – Venezuela's opposition said yesterday President Hugo Chavez's prolonged convalescence from cancer in Cuba put the country's security and sovereignty at risk and it stepped up calls for him to delegate his powers.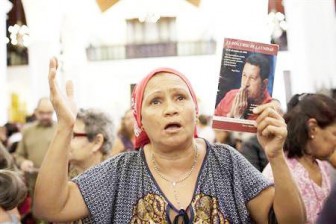 "It's clear Chavez does not have the capacity to fully exercise his power … . This is a very dangerous, nefarious precedent," Roberto Enriquez, national president of the COPEI Christian Democrat opposition party, told reporters.
The 56-year-old's cancer, which the charismatic socialist leader revealed on Thursday in a televised speech from Havana, has convulsed politics in South America's biggest oil exporter ahead of a presidential election next year.
"The security of the state cannot be handled from outside the national territory … . Affairs of state are being discussed in foreign government installations," COPEI's Enriquez said, adding that the situation put the country's security and sovereignty at risk.
Vice President Elias Jaua and Venezuela's military chiefs have rejected calls for any temporary delegation of Chavez's powers. They argue the National Assembly dominated by the president's supporters has already constitutionally approved his absence.
Chavez's illness has underlined the lack of an obvious successor to the populist Venezuelan leader whose personalized style of government has dominated the OPEC country since 1999.
Chavez's armed forces, purged over the years of critics and opponents, have been a bulwark of support to his left-leaning "Bolivarian Revolution" and Defence Minister Carlos Mata Figueroa repeated a pledge of loyalty yesterday.
"The soldiers of the homeland who are the blood, sap and soul of the people express our deepest loyalty to the Commander in Chief and revolutionary government," Mata said at a military ceremony that should have been attended by Chavez.
Neither Chavez nor his government has announced a firm date for his return, fuelling conjecture about what kind of cancer he has and how long it could take him to recover. Media reports have speculated he has either colon or prostate cancer.
Analysts say any diminishing of Chavez's visibility or volubility could reduce his ability to rally support for the 2012 election.
"The revolution and the new socialism are words that without President Chavez have little meaning for a broad number of people, with many periphery supporters likely to shift towards the opposition," global banking group RBS said in a research note.
With polls showing the popularity of Chavez's government being eroded by economic woes, high crime rates and problems like chronic power outages, next year's vote is likely to be crucial for Chavez in his long career marked by a string of ballot victories and the projection of his leftist policies around the world.
"We have absolute faith and confidence in God … that Hugo Chavez will be the candidate of the Bolivarian Revolution, of the people and patriots of Venezuela, and that he will carry on being president beyond 2012," Jaua said on Friday.
On the streets of Caracas yesterday, debate swirled over just how ill Chavez might be and when he would come back.
"I think he's not going to be the same, cancer is a very serious illness and he looked very bad to me, very thin, pale, he didn't look like the same old Chavez," said Yiletsi Velasco, a 53-year-old housewife.
Newspaper vendor Wilmer Rojas was more upbeat and said his paper sales had rocketed in recent days.
"Chavez is going to be back faster than some people think. I see a lot of people talking, but you'll see Chavez will be back. Not even cancer can bring him down, he'll return strong," he said.
One source close to the Venezuelan medical team following his recovery in Cuba has said the diagnosis revealed a cancer that required aggressive treatment that could take several months.
A wing of the Military Hospital in Caracas was being prepared to receive him when he returns, the source said.
Since Chavez appeared on TV on Thursday to reveal he had undergone cancer surgery, many have questioned whether he will be able to govern the nation of 29 million people.
A phone call by Chavez to Cuban TV on Friday did little to quell the rumours.
"Nobody expected this illness," he said, but he added he was sure he would recover and that the experience would strengthen him.
He was keen to demonstrate he was still running Venezuela during his recuperation, discussing energy and infrastructure projects and summoning government leaders including Energy Minister Rafael Ramirez to talks in Havana.
Chavez vanished from public view after an operation to remove a pelvic abscess on June 11, followed by the more serious cancer tumor extraction.
Other world leaders have suffered cancer but remained in office, including Paraguay's Fernando Lugo, France's Francois Mitterrand, the Czech Republic's Vaclav Havel and US President Ronald Reagan.
Around the Web