CARACAS, (Reuters) – Venezuelan President Hugo  Chavez's supporters rallied and prayed yesterday for the speedy  recovery of a man whose cancer has rattled the country he has  dominated for more than a decade.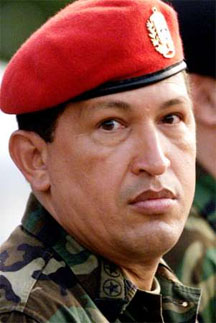 In bread shops and bars, streets and homes across the  volatile South American OPEC member, there is only one topic of  gossip and debate: just how bad is Chavez's health?
On a day usually revolving round Chavez's weekly "Alo  Presidente" TV show — hours-long folksy soliloquies to tell  stories, sing songs, nationalize companies or bait foes —  loyalists instead held a Catholic mass and march for their  man.
Dozens chanted "We love Chavez!" at a service in the  capital's largest slum, Petare. At a downtown square, thousands  of red-shirted supporters danced, sang, waved flags and held  puppets of Chavez aloft in a lively show of support.
"I see you, I hear you, I live through you!" Chavez tweeted  in appreciation from Havana, Cuba where he is receiving  treatment after surgery to remove a cancerous tumor.
"He is going to emerge victorious. We all ask God to give him health and strength," said pensioner Irma Santan-der, 76,  sporting the red colors of diehard "Chavistas".
An atypically somber and reflective Chavez shocked  Venezuelans when he admitted last week he had cancer.
The 56-year-old socialist is one of the most globally  recognizable figures thanks to his flamboyant anti-Americanism  and self-styled "revolution", which has projected his left-wing  views across Latin America and the world.
Only Chavez, his doctors and closest allies may know if the  malignant cells have spread or been stemmed, with speculation  he may have colon cancer and face months of chemotherapy.
ELECTION LOOMS
The implications are  immense: Chavez has no obvious  successor, and an opposition browbeaten by him since his first  election win in 1998 is sensing a chance in next year's vote.
Opposition leaders and critics are trying to avoid any  accusations of exulting in his misfortune.
But they are nevertheless angry he has not named a  temporary successor during his nearly month-long stay in Cuba  and are quietly excited about the specter of a power change.
"I feel a real dilemma inside. I hate what he's done in  Venezuela and I've always opposed him," said housewife Jenny  Rodriguez, at a posh hilltop sports club right opposite a slum  in a typical example of Venezuela's social divide.
"But I don't wish death or physical suffering on anyone,  that would be wrong before God. I'd prefer him to get better —  then lose the election fairly, as he would anyway."
Even if he recovers perfectly, Chavez's health crisis  already looks like a game-changer for the nation of 29 million  people. It has exposed the lack of replacements, dented his  aura of invincibility and given encouragement to his  opponents.
"Venezuela cannot be governed from a hospital in a foreign  country," said one opposition leader, Antonio Ledezma.
Anxious allies insist their 'comandante' remains an active  president and there is no need to temporarily name Vice  President Elias Jaua, who is the face of government at home.
The constitution requires a delegation of powers to the  vice president if there is an "absence" of 90 days, or 180 if  the assembly uses its prerogative to extend that period.
But officials say the clock has not started running because  Chavez is still signing decrees and giving instructions to  ministers, some on trips to Havana.
Latest images of Chavez — released by state media in a  slightly surreal drip-drip of photos and footage reminiscent of  Cuba's handling of former president Fidel Castro's illness —  showed him engaging in a mock sword fight with his foreign  minister, both of them brandishing large tropical seed pods.
The images, from Friday, showed Chavez talking animatedly  and wandering, presumably through the garden of Havana's Cimeq  hospital, hand-in-hand with two of his daughters.
There was still no word when Chavez might be home.
"He will come when his doctors say it is time," Jaua told  Reuters at preparations to mark the 200th anniversary of  Venezuela's independence from Spain, a celebration tomorrow  that Chavez would dearly love to attend.
Around the Web