LONDON, (Reuters) –     Prime Minister David Cameron  led a chorus of condemnation yesterday over allegations a  top-selling British newspaper from Rupert Murdoch's global media  empire hacked the voicemail of a missing schoolgirl who was  later found murdered.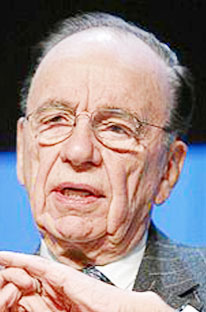 Suggestions that in 2002 a News of the World investigator  listened in to, and deleted, messages left for the cellphone of  the 13-year-old, misleading police and her family, caused uproar  in parliament, where the tactics and power of the tabloid press,  many of them Murdoch titles, have long caused controversy.
The gravest accusations yet drove the long-rumbling scandal  into the heart of Murdoch's News Corp : it came as it  seeks official approval to take over broadcaster BSkyB ;  and forced Rebekah Brooks, a Murdoch confidante who was the News  of the World editor at the time, to plead ignorance and say she  would not resign as head of News Corp's British newspaper arm.
Pressure is unlikely to let up, however. At least one major  advertiser, carmaker Ford, said it was pulling ads from  the News of the World — though not the other Murdoch papers —  until it saw how the tabloid dealt with the new allegation.
Lender Halifax said on its official Twitter feed  that it was considering its options, while telephone operator  T-Mobile UK <DTEGn.DE> said on Twitter it was reviewing  its advertising position.
And police looking into phone hacking by the newspaper later  said they had been in touch with the parents involved in another  notorious child murder, when two 10-year-old girls were seized  and killed by a school caretaker in the town of Soham in 2002.
Around the Web