CANBERRA, (Reuters) – Australia unveiled its most  sweeping economic reform in decades on Sunday with a plan to tax  carbon emissions from the nation's worst polluters, reviving  hopes of stronger global climate action with the largest  emissions trade scheme outside Europe.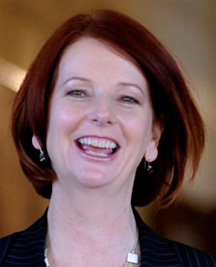 Prime Minister Julia Gillard said 500 companies including  steel and aluminium manufacturers would pay a A$23 ($24.70) per  tonne carbon tax from next year, rising by 2.5 percent a year,  moving to a market-based trading scheme in 2015.
"It's time to get on with this, we are going to get this  done," said Gillard after a bruising battle to win political  support for the scheme, which has polarised voters and business.  A parliamentary vote on the scheme is expected before year-end.
Australia is the developed world's worst per-capita  greenhouse gas emitter because of its heavy reliance on cheap  coal for power generation. Emissions are set to rise in the  booming economy without a carbon cost, the government says.
The stakes are high for Gillard's Labor party, which relies  on the support of Greens and independents for a one-seat lower  house majority. Her popularity has slumped to record lows over  the scheme.
With the details now finally released after months of  waiting, Gillard will now try to convince voters opposed to the  plan ahead of a parliamentary vote, trying to deflect a campaign  against it by the hardest hit businesses.
"It is absolutely critical that the government sells this  very effectively," said Tony Wood, director of the energy  programme at the Grattan Institute, a policy think tank.
Around the Web