NEW YORK/LONDON, (Reuters) – Rupert Murdoch  apologized to victims of criminal phone hacking by one of his  tabloids and accepted the resignations of News Corp's  top two newspaper executives, Rebekah Brooks and Les Hinton.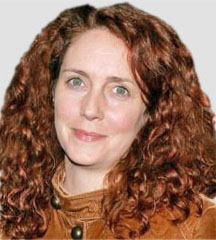 Rarely one to back down in a fight, Murdoch took a new,  more conciliatory stance yesterday in attempting to gain  control of a scandal rocking his company and inching its way  ever-closer to his son James Murdoch.
The damage control included a personal apology to the  parents of a murdered schoolgirl in what appeared to be an  admission that the News of the World, then edited by Brooks and  overseen by Hinton, had in 2002 hacked into the voicemails of  their missing daughter.
It was that damning allegation, in a rival newspaper 10  days ago, which reignited a five-year-old scandal that has  forced Murdoch to close the News of the World, Britain's  best-selling Sunday paper, and drop a $12 billion plan to buy  full control of highly profitable pay-TV operator BSkyB.
The crisis has broken the grip that Murdoch, 80, had over  British politics for three decades as leaders from Margaret  Thatcher, through Labour's Tony Blair to current Conservative  Prime Minister David Cameron sought his support.
It has also forced him to make concessions to public calls  that the executives who were in charge at the time of the  scandal be held accountable.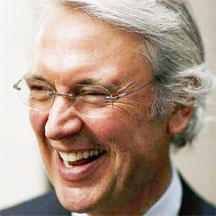 Known for his loyalty to those close to him, Murdoch backed  down yesterday and accepted the resignations of confidants  Brooks and Hinton, a 52-year veteran of the company and the top  executive of Dow Jones, publisher of the Wall Street Journal.
With these departures, attention will now turn to Murdoch's  son and presumed successor, James, who took over the European  operations of News Corp just as the crisis was beginning. He  has admitted to approving the payment of out-of-court  settlements when he did not have a complete picture of what had  happened.
"First Brooks, then Hinton were the firewalls for James.  There's no question he's on the hotseat next," said Jeff  Jarvis, a journalism professor at City University of New York.
A direct apology from Rupert Murdoch, who has been summoned  to answer questions before a parliamentary committee next  Tuesday, will be carried in all national newspapers this  weekend under the headline "We are sorry." The text was  released by News International.
"The News of the World was in the business of holding  others to account. It failed when it came to itself," Murdoch  wrote in the article, which was signed off "Sincerely, Rupert  Murdoch."
"We are sorry for the serious wrongdoing that occurred. We  are deeply sorry for the hurt suffered by the individuals  affected," he added.
"In the coming days, as we take further concrete steps to  resolve these issues and make amends for the damage they have  caused, you will hear more from us."
He met parents of Milly Dowler, a 13-year-old abducted in  2002 and found murdered six months later. Police are  investigating whether someone engaged by the News of the World  not only listened in to the missing teenager's cellphone  mailbox but deleted some messages to make room for more.
That misled police hunting for her and gave her parents  false hope that their daughter might still be alive. Brooks,  now 43, was then editor of the News of the World and has denied  knowing of any such practices at the time.
"He apologised many times," said Mark Lewis, the Dowler  family lawyer. "I don't think somebody could have held their  head in their hands so many times to say that they were  sorry."
Around the Web