LIMA,  (Reuters) – Peru's leftist President-elect  Ollanta Humala has launched a "shock of confidence" to show  investors he has shed his radical past and will prudently lead  one of the world's fastest-growing economies.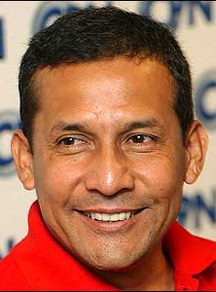 In a bold move, Humala, who once railed against foreign  investors and Wall Street, said late on Sunday he will  reappoint conservative central bank chief Julio Velarde for  another five-year term. It was the clearest sign yet that  Humala will govern as a moderate.
And another surprise may be in the works. There are strong  indications Humala will pass over the left-leaning economists  he relied on during the campaign and, instead, pick orthodox  economist Luis Miguel Castilla to be finance minister.
Humala, who takes office July 28, is expected to name his  cabinet tomorrow after weeks of delays. Hardliners and  moderates in Humala's Gana Peru party have jockeyed for power  following his June 5 election victory.
A former World Bank official who has a doctorate from Johns  Hopkins University in the United States, Castilla was vice  finance minister until he resigned on Saturday.
Castilla served under three finance ministers associated  with Peru's free-market model, which Humala has criticized for  leaving a third of Peruvians mired in poverty while prompting  an overall surge in growth over the past two decades.
"It seems that Humala has decided to abandon the economics  team that he had during the campaign, which is very positive,"  said Jorge Gonzalez, a professor at Lima's Universidad del  Pacifico, where Velarde and Castilla are on the faculty.
"His team was full of people who had unorthodox, leftist  views about how to manage economic policy and the country's  finances."
Top members of Humala's economics team, such as Felix  Jimenez, a professor at Lima's Catholic University, are  opponents of "neoliberal" policies that have underpinned Peru's  successes and won it investment grade credit ratings.
Humala's original campaign platform, which was authored by  Jimenez, read like a flashback to the 1970s, when Marxist  academics encouraged developing countries to turn inward,  follow their own interventionist economic policies, and break  their dependency on rich countries.
Kurt Burneo, a technocrat on Humala's transition team, had  been considered by many the frontrunner for the finance  ministry post, but on Monday he appeared less optimistic about  getting the job.
"Castilla is a qualified technocrat and it's the  president-elect's decision," Burneo told Reuters.
Left-wingers in Humala's party said they were concerned  that Castilla, who worked for departing President Alan Garcia,  could get the key position.
"For me this is worrisome, because (Castilla) comes from  the current administration and is part of the team that ran the  policy of growth without social inclusion," said Javier Diez  Canseco, who will be a lawmaker in the next Congress.
But analysts on Wall Street said Castilla would be a good  pick, and local financial markets surged on Monday as Humala  tacked further toward the centre.
"Definitely Castilla, of the names mentioned, is one of the  best," said Alejandro Grisanti of Barclays in New York. "He is  well-known and we think he is very technical."
The business community had urged Humala since he won the  election to generate a "shock of confidence" that would  persuade them to proceed with billions of dollars in projects  delayed because of political uncertainty.
CONCESSION TO THE RIGHT
"This is Humala's concession to the right," a Peruvian fund  manager said of Velarde's reappointment.
Humala had been expected to name Oscar Dancourt — an  academic economist, member of his transition team, and a former  central bank president — to take over at the central bank.
But Dancourt lacks Velarde's gravitas on Wall Street and is  not seen as a tough inflation hawk. Inflation is projected to  be about 3 percent in 2011.
Velarde is a rare breed among central bankers, having  successfully slayed hyperinflation in the 1990s and averted  deflation during the most recent global economic crisis.
Humala announced he would retain Velarde just after a poll  on Sunday showed his approval rating had sunk over the past few  weeks to 41 percent from 70 percent and as some leading  economic indicators took a turn for the worse.
Growth in private investment, which had surged 30 percent a  year, slowed to 13 percent in the first five months of this  year on worries Humala might roll back years of free-market  reforms. The economy is now forecast to grow around 6 percent  this year after expanding 9 percent last year.
In addition to the naming of a finance minister, investors  are keen to see who will become prime minister and who will  take over as mining minister in one of the world's top minerals  exporters, where $50 billion in mining and oil investments have  been lined up for the next decade.
"We are going to build a cabinet of national conciliation,  to give economic stability to the country," Humala said on  Sunday.
Around the Web