GEORGE TOWN, (Reuters) – Cayman Islands Premier W.  McKeeva Bush is being investigated by police over "an alleged  financial irregularity" in the British-ruled Caribbean  territory, the governor's office said yesterday.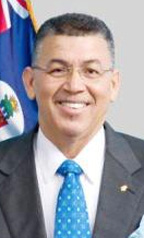 The statement from the office of Governor Duncan Taylor,  who represents the British monarch in the offshore finance hub,  said the Royal Cayman Islands Police Service was investigating  the allegations relating to the premier.
Taylor was responding to a request from a local politician  for a commission of enquiry to look into a letter allegedly  sent by Bush in 2004 to a U.S.-based developer requesting a  $350,000 payment to a real estate company owned by Bush's  wife.
The alleged letter concerns rezoning issues for a Caymans  property transaction that required cabinet approval.
Bush, who in 2004 was the leader of government business, a  precursor to the current premier title, has denied any  wrongdoing, saying "my hands are clean and my heart is pure."
"This matter is already the subject of an ongoing  investigation by the Royal Cayman Islands Police Service  (RCIPS)," Governor Taylor said in his statement.
He said he saw no need for a commission of enquiry, given  that the police were already investigating.
Bush was re-elected Cayman Islands premier two years ago on  a platform to stimulate the economy and create jobs after the  economic downturn in recent years.
He has faced pressure from the British Foreign Office to  try to reduce the Caymans' reliance on the financial sector —  which accounts for more than half of the local economy — and  to widen the tax base.
Around the Web