MIAMI, (Reuters) – Miami police arrested Outkast  rapper and "Hey Ya" singer Big Boi yesterday for possessing  ecstasy and other drugs that the performer's lawyer later  characterized as "contraband."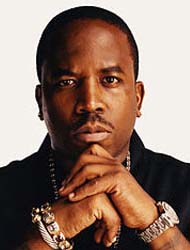 Media reports cited the Miami-Dade County Corrections  Department's website as listing the rapper, whose real name is  Antwan Patton, as having been arrested for having ecstasy, MDMA  powder and Viagra, for which he had no prescription.
The Miami Herald reported that Big Boi faces a fourth count  of possession of drug paraphernalia. Celebrity website TMZ.com  said he was arrested by customs officials exiting a cruise  ship, and that he'd been booked into jail in the afternoon but  was released after posting a bond.
On the singer's official Twitter account, Big Boi initially  tweeted "Fresh Out Baby!" and later, "…they said it was the  Love Boat…" But details of the arrest could not be confirmed  last evening.
An attorney for the rapper issued a statement saying he  expects Big Boi will beat the charges.
"While Big Boi was traveling with his group and friends, a  small amount of contraband was found in the collective  luggage," attorney Daniel Kane said in a statement.
Around the Web