LONDON,  (Reuters) – A British businessman accused of  arranging for his wife to be murdered while they were on  honeymoon in Cape Town can be extradited to face trial in South  Africa, a court ruled yesterday.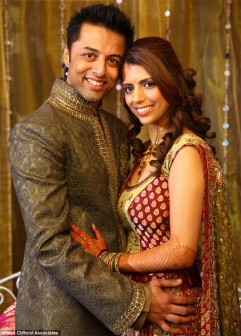 However, the judge said the decision on whether to extradite  Shrien Dewani, 31, who has denied conspiring to kill his wife,  Anni, in a fake car-jacking last November, would need to be  approved by Home Secretary Theresa May.
Anni Dewani, 28 and from Sweden, was shot when the taxi the  couple were travelling in was hijacked in the Gugulethu township  on the outskirts of Cape Town last November.
She was found dead in the back of an abandoned cab with a  bullet wound to her neck after cabbie Zola Tongo drove the  newlyweds to the township.
Dewani claims the vehicle was carjacked and that he and  Tongo were forced out of the car unharmed before Mrs Dewani was  driven away and killed.
However, Tongo turned state witness and, in return for a  reduced sentence, alleged that Dewani paid for his wife to be  killed.
Dewani has fought extradition proceedings, arguing that he  is suffering from severe post-traumatic stress disorder and is  too unwell to be sent abroad for trial.
District Judge Howard Riddle gave the go-ahead for the  extradition at Belmarsh Magistrates' Court but said the ruling  had to be agreed by the Home Secretary.
"As the issues arising above have been decided adversely to  the defendant, I must send this case to the Secretary of State  for a decision whether the defendant is to be extradited," his  judgement said.
Dewani's lawyers can also appeal against the decision to  higher courts, meaning a final decision may be some months away.
Around the Web