NEW DELHI, (Reuters) – An Indian anti-graft  campaigner whose jailing sparked mass protests and fierce  criticism of the government has accepted a police offer to fast  in a New Delhi park for two weeks, an aide said last night,  prompting euphoria from his followers.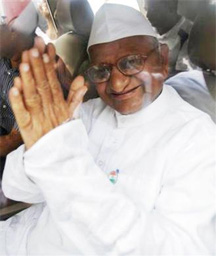 Protests swelled across India yesterday in support of  Anna Hazare, a Gandhian-style campaigner who had refused to  leave jail until he won permission to continue his fast until  death at the Ramlila Maidan, a popular rallying site in the  heart of old Delhi.
Crowds outside the Tihar jail where Hazare was staying  erupted in joy at news of the deal, reached in the middle of the  night, shouting his name "Anna", singing, playing guitars and  waving the Indian flag. He is expected to go to the protest  ground at 3 pm local time (0930 GMT).
"Anna wanted three weeks but … has finally settled on two  weeks," Kiran Bedi, one of India's first female police officers  and a widely respected figure for her anti-graft-drive, told  Times Now television.
"None of us is looking at this as a victory," said Bedi, who  had also been briefly arrested. "We are not playing games. We  are doing this to move the country forward."
Beleaguered Prime Minister Manmohan Singh and his government  had appeared at a loss over how to end the standoff. The arrest  of Hazare shortly before he was due to start the fast on Tuesday  sparked nationwide outrage and promoted lawmakers to block  parliament proceedings and shout "shame" at the government.
The arrest and sudden about-turn to release him appeared to  confirm a widespread feeling Singh's government is cornered,  clumsy and too riddled with scandal to govern Asia's  third-largest economy effectively.
The focus now turns from the arrest to the fight against  corruption, proving headaches for the government for weeks to  come.
Around the Web