ZAWIYAH, Libya, (Reuters) – Libyan rebels fought  fierce battles in two coastal cities on either side of the  capital Tripoli yesterday in a drive to topple Muammar Gaddafi,  but met stiff resistance from forces loyal to the long-time  leader.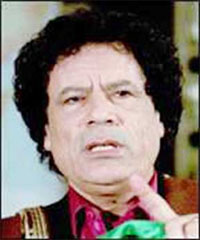 Sustained blasts from rocket-propelled grenades, mortars and  anti-aircraft guns rang out in the centre of Zawiyah, a city on  the coastal highway 50 km (30 miles) west of Tripoli that the  rebels entered this week, in a clash that killed at least two.
As they pushed to consolidate control of the city and its  strategic oil refinery, rebels in Zawiyah's central square  exchanged heavy fire with Gaddafi forces holed up inside a  nearby hospital before driving them out, Reuters witnesses said.
East of Tripoli, opposition forces fought bloody street  battles in the city of Zlitan but suffered heavy casualties, a  Reuters reporter there said. A rebel spokesman said 32 rebel  fighters were killed, with 150 wounded.
Rebel advances have cut off Tripoli from its main supply  routes, putting Gaddafi's four-decade rule under heavy pressure.
But Gaddafi's information minister, Moussa Ibrahim, said  late on Friday the government's military retained the upper hand  and scorned what he described as 'bands of insurgents'.
With rebels pushing on the ground, NATO has pressed on with  its campaign from the air and its warplanes pounded targets in  the capital overnight.
Gaddafi's government has blamed NATO bombings for scores of  civilian deaths and said 27 people were killed in the most  recent raids on Tripoli. NATO accuses Gaddafi forces of housing  military assets near civilians.
In another sign the fighting is hitting closer to Gaddafi's  inner circle, the brother of the spokesman who has served as the  Tripoli government's public face was reported killed in a front  line city. The government blamed NATO attack helicopters.
Libyan officials separately brought journalists to a  residential district where a compound of several large buildings  was blasted to pieces. Neighbours said it belonged to Abdullah  al-Senussi, Gaddafi's brother-in-law and head of intelligence.
NBC News reported Gaddafi was making preparations to leave  Libya with his family for possible exile in Tunisia, but that it  was unclear if he would follow through. NBC said the information  came from U.S. officials who cited intelligence reports.
A spokeswoman for the International Organization for  Migration (IOM), Jemini Pandya, said the operation to rescue  thousands of Egyptians and other foreigners trapped in Tripoli  by the latest fighting would begin within days.
"We are looking at all options available, but it will  probably have to be by sea," she told a Geneva news conference.
More than 600,000 of up to 2.5 million foreigners, mostly  Asian and African migrant workers, have fled Libya in six months  of fighting. But thousands remained in Tripoli, which until this  week was calm and a safe two-hour drive from Tunisia.
The route has been cut since the rebels entered Zawiyah,  which lies on the coastal highway, six days ago. In Zawiyah,  medics at another local hospital said two dead and three wounded  had been taken there from the recent fighting.
Around the Web