JOHANNESBURG, (Reuters) – South Africa's ruling  African National Congress yesterday charged controversial youth  leader Julius Malema with "sowing divisions" in its ranks and  bringing the party into disrepute.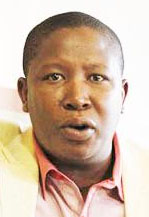 If Malema, president of the ANC Youth League, is found  guilty by a disciplinary committee he could be suspended from  the party because he was found guilty of a similar offence last  year.
Malema has come under fire over the youth wing's calls for  the overthrow of the democratically elected government of  neighbouring Botswana.
"Comrade Julius Malema has been charged with various  violations of the ANC Constitution, including bringing the ANC  into disrepute through his utterances and statements on Botswana  and sowing divisions in the ranks of the African National  Congress," the party said in a statement.
The ANC fined Malema 10,000 rand ($1,388) and ordered him to  attend anger management classes in May last year after he was  found guilty of contravening the party constitution through  comments that undermined President Jacob Zuma.
A disciplinary committee further ruled that if he was found  guilty of dividing the party again within two years, his party  membership would be suspended.
Neither Malema or the ANC Youth League was immediately  available for comment.
"I wouldn't hold my breath. Julius Malema has taken several  bullets in the past and he seems to have survived," said  independent political analyst Nic Borain.
INVESTORS
 UNNERVED       
Malema's repeated calls to nationalise mines and seize  white-owned land has unnerved investors but he is a hero to many  poor blacks who see him as a future president. He has no direct policy-making power but his ability to  influence millions of poor puts him in an influential position.  Senior figures including President Jacob Zuma want his support  ahead of a meeting next year to elect party leaders.
Malema, 30, has also come under pressure from reports over  his finances. South African media said yesterday that a top  corruption buster planned an investigation into the awarding of  government contracts to a firm linked to him.
Around the Web