TRIPOLI,  (Reuters) – Jubilant rebel fighters streamed  into the heart of Tripoli as Muammar Gaddafi's forces collapsed  and crowds took to the streets to celebrate, tearing down  posters of the Libyan leader.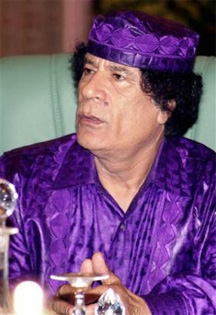 Rebels waving opposition flags and firing into the air drove  into Green Square, a symbolic showcase the government had until  recently used for mass demonstrations in support of the now  embattled Gaddafi. Rebels immediately began calling it Martyrs  Square.
Earlier, a convoy of rebels entered a western neighbourhood  of the city. Rebels said the whole of the city was under their  control except Gaddafi's Bab Al-Aziziyah stronghold, according  to al-Jazeera Television.
Two of Gaddafi's sons were captured by the rebels, who were  also reported to have seized the Libyan state radio building in  the capital. Gaddafi's presidential guard units laid down their  arms.
Remaining defiant, Gaddafi earlier had made two audio  addresses over state television calling on Libyans to fight off  the rebels.
"I am afraid if we don't act, they will burn Tripoli," he  said. "There will be no more water, food, electricity or  freedom."
But resistance to the rebels appeared to have largely faded  away, allowing the rebels and their supporters to demonstrate in  Green Square.
Televised images showed Libyans kneeling and kissing the  ground of Tripoli in gratitude for what some called a "blessed  day".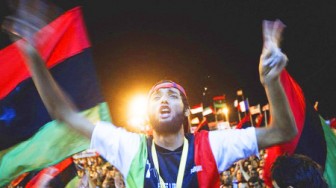 Many Tripoli residents received a text message from the  rebel leadership saying: "God is Great. We congratulate the  Libyan people on the fall of Muammar Gaddafi."
Gaddafi, a colourful and often brutal autocrat who has ruled  Libya for more than 40 years, said he was breaking out weapons  stores to arm the population. His spokesman, Moussa Ibrahim,  predicted a violent reckoning by the rebels.
"A massacre will be committed inside Tripoli if one side  wins now, because the rebels have come with such hatred, such  vendetta…Even if the leader leaves or steps down now, there  will be a massacre."
NATO, which has backed the rebels with a bombing campaign,  said the transition of power in Libya must be peaceful.
 TRIPOLI FALLS QUICKLY  
After a six-month civil war, the fall of Tripoli came  quickly, with a carefully orchestrated uprising launched on  Saturday night to coincide with the advance of rebel troops on  three fronts. Fighting broke out after the call to prayer from  the minarets of the mosques.
Rebel National Transitional Council Coordinator Adel  Dabbechi confirmed that Gaddafi's younger son Saif Al-Islam had  been captured. The International Criminal Court in The Hague,  which wants Saif along with his father on charges of crimes  against humanity, said he should be handed over for trial.
Gaddafi's eldest son Mohammed Al-Gaddafi had surrendered to  rebel forces, Dabbechi told Reuters. In a television interview,  the younger Gaddafi said gunmen had surrounded his house, but he  later told al-Jazeera in a phone call that he and his family  were unharmed.
Only five months ago Gaddafi's forces were set to crush the  rebel stronghold of Benghazi, the leader warning then that there  would be "no mercy, no pity" for his opponents. His forces, he  said, would hunt them down "district to district, street to  street, house to house, room to room".
The United Nations then acted quickly, clearing the way for  creation of a no-fly zone that NATO, with a campaign of bombing,  used ultimately to help drive back Gaddafi's forces.
"It's over. Gaddafi's finished," said Saad Djebbar, former  legal adviser to the Libyan government.
U.S. President Barack Obama, on vacation in the island of  Martha's Vineyard, said he would not comment until the situation  in Libya became clear.
Al Jazeera television aired images of people celebrating in  central Tripoli and tearing down posters of Gaddafi, which had  dominated Libyan cities for decades.
In Benghazi in the east, thousands gathered in a city-centre  square waving red, black and green opposition flags and  trampling on pictures of Gaddafi as news filtered through of  rebel advances into Tripoli.
Around the Web