TRIPOLI, (Reuters) – Libya's new masters have offered  a million-dollar bounty for the fugitive Muammar Gaddafi, after  he urged his men to fight on in battles across parts of the  capital.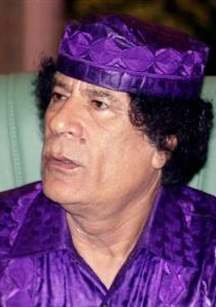 A day after rebel forces overran his Tripoli headquarters  and trashed symbols of his 42-year rule, scattered pockets of  loyalist diehards kept the irregular fighters at bay as they  hunted Gaddafi and his sons. Rebels also reported fighting deep  in the desert and a standoff round Gaddafi's tribal home town.
In Tripoli, rockets and shooting kept largely kept civilians  indoors and gunfire rang out in the centre  into the  night. Most were anxious but hopeful the war would soon end, and  with it the worsening shortages of food, water and medical  supplies — both for hundreds of wounded and for the sick.
"Gaddafi's forces and his accomplices will not stop  resisting until Gaddafi is caught or killed," said Mustafa Abdel  Jalil, head of the rebels' National Transitional Council (NTC),  who offered amnesty to any of his entourage who killed the  fallen strongman and announced a reward worth over $1 million  for his capture.
"The end will only come when he's captured, dead or alive,"  Abdel Jalil said in the eastern rebel stronghold of Benghazi.
Until then, he said, Gaddafi would not give up easily and  could still unleash a "catastrophic event". In a poor-quality  audio tape broadcast by satellite yesterday, Gaddafi, 69,  urged Libya's tribes to "exterminate traitors, infidels and  rats".
There was no clear indication of where Gaddafi is, though  his opponents surmised he was still in or around Tripoli after  what Gaddafi himself described as a "tactical" withdrawal from  his Bab al-Aziziya compound before it was captured on Tuesday.
But Western leaders and the rebel government-in-waiting have  lost no time readying a handover of Libya's substantial foreign  assets. Funds will be required to bring relief to war-battered  towns and to develop oil reserves that can make Libya rich.
Around the Web