NEW DELHI,  (Reuters) – Sipping coconut water and  honey, a self-styled Gandhian anti-corruption reformer ended a  hunger strike on its 13th day yesterday, a protest that had  sparked huge rallies across the country, exposed a weak  government and ushered in a new middle-class political force.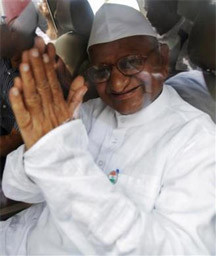 After initially arresting Anna Hazare and dismissing him as an anarchist, Prime Minister Manmohan Singh's government caved  in to the demands of the 74-year-old as parliament backed  anti-graft legislation that met many of his demands.
"It's a proud moment for the country that a mass movement  which was carried out for 13 days was peaceful and non-violent,"  Hazare, wearing a crisp white kurta smock and cap, told cheering  supporters from a stage at an open ground in New Delhi that has  become the epicentre of a nationwide crusade.
"The people's parliament is bigger than Delhi's parliament."
Hazare tapped a groundswell of public anger against endemic  corruption, uniting the country's bulging middle-class against a  hapless political elite and underlining voter anger at Singh and  the ruling Congress party.
Over 40,000 supporters flocked to witness Hazare break his  fast, local media reported, while TV pictures showed hundreds of  people dancing, celebrating and distributing sweets in the  activist's hometown in western India.
Tens of thousands of mostly urban and wired voters across  India celebrated the achievement of an unprecedented movement  that may usher in a new force in Indian politics and damage the  ruling Congress party in crucial state elections next year.
The so-called Lokpal legislation was presented in early  August, but activists slammed the draft version as toothless  because the prime minister and judges were exempt from probes.
Hazare had demanded that the bill included bringing civil  servants under a proposed corruption agency's authority, ensured  similar agencies at a state level and created a citizen's  charter.
In calling off the hunger strike, his second this year, the  veteran activist fired a warning shot at lawmakers and the weary  government, threatening to restart his agitation should  parliament renege on its promises.
That threat, a headache for the ruling Congress party that  will hope to move on from the crisis to tackle key economic  reforms shelved in the political melee, came as another social  activist cautioned against expecting "a miracle".
"We have achieved the first milestone in having a strong  Lokpal Act and it may take its own time. It's not something you  can expect today, tomorrow or next month," Santosh Hegde, a  former Supreme Court judge who sat on the panel that drafted the  bill, was quoted by the Press Trust of India as saying.
"Let not the people of India expect a miracle."
Hazare also declared his intentions to campaign against  "corrupt" politicians in the 2014 general election, in a country  where 30 percent of lower house MPs have pending criminal cases  against them, according to research by the Association for  Democratic Reforms.
Undermined by graft scandals and seen as out-of-touch with  voters battling high inflation, Congress' failure to deal with  Hazare's campaign before it flared up into a national issue  spells danger for the ruling party in state polls next year  ahead of the 2014 election.
While protests in India are not uncommon, the sight of many  well-off young professionals using Twitter and Facebook taking  to the streets of Asia's third-largest economy suggest an  awakening of a previously politically-ambivalent middle-class.
 NATIONWIDE SUPPORT       
"Anna wins it for the people," splashed the front page of  India's Sunday Times newspaper, as grassroot activists across  the country revelled in victory.
Around the Web