WASHINGTON,  (Reuters) – The head of the U.S. agency  that oversaw a botched attempt to track arms flowing to drug  cartels in Mexico is being reassigned to the Justice Department  headquarters, the Obama administration said on Tuesday.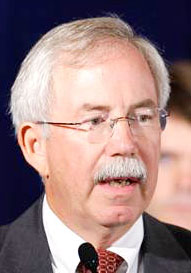 Kenneth Melson, who has been acting director of the Bureau  of Alcohol, Tobacco, Firearms and Explosives, has been under  fire and admitted mistakes in the sting operation meant to try  to crack down on the flow of weapons to violent drug gangs.
He will be reassigned to the Justice Department's Office of  Legal Policy as an advisor on forensic science, the Justice  Department said. The U.S. Attorney for Minnesota, Todd Jones,  will serve as acting ATF director.
One administration official said this is a chance for a  "fresh start given everything they've gone through lately."
The operation, dubbed "Fast and Furious", has spawned  congressional and internal Justice Department probes and put  the Obama administration on the defensive about whether  dangerous weapons were knowingly allowed to cross the border.
Republicans in the U.S. Congress have been demanding the  Obama administration explain who knew what and when about the  ATF program, which was conceived of and run out of the agency's  Phoenix division.
Numerous weapons from the operation, which began in late  2009 and ran through 2010, have shown up at crime scenes in  Mexico and the United States.
Around the Web