TRIPOLI, (Reuters) – Libya's new leadership  reaffirmed its commitment to democracy yesterday and worked on  its priorities for spending billions of dollars released from  the frozen assets of fugitive strongman Muammar Gaddafi.
A day after international powers met in Paris and agreed to  hand over more than $15 billion to the rebels who overthrew  Gaddafi the European Union rescinded a range of sanctions and   officials from the National Transitional Council explained their  rebuilding plans.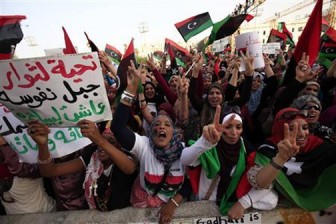 The NTC representative in London said that work on putting  right the damage of 42 years of eccentric one-man rule and of  six months of civil war should not wait until Gaddafi is found  and the last bastions of armed support for him are defeated.
"As long as Tripoli, the capital, is stabilised and secure  and safe, which it almost is now, and the overwhelming majority  of other cities and towns, then Libyans can get on with the  process of transition and stabilisation and the new political  process," Guma El-Gamaty told the BBC.
In the eastern city of Benghazi, seat of the uprising, an  NTC official said the release of the funds meant the NTC now had  to show Libyans it was capable of governing.
"Before we had the excuse that we didn't have money when  things went wrong," he said. "Now we don't have the excuse."
Gamaty reaffirmed the council's commitment to a "clear road  map" to democracy, including a constitution to be drafted within  eight months, a referendum and then full elections in 2013.
"By the end of about 20 months the Libyan people will have  elected the leaders they want to lead their country," he said.
As the rebels hunt Gaddafi, a spokesman for his son  Saif al-Islam said he has been travelling around close to  Tripoli, meeting tribal leaders and preparing to retake the  capital.
In a telephone call to Reuters in Tunisia from what he  said was a "southern suburb of Tripoli", Moussa Ibrahim derided  the ability of the NTC to run the country and said their Western  backers should negotiate with the ousted leader.
There was no way to verify his comments which, like  those broadcast this week by Gaddafi himself, serve as a public  reminder to Libyans he remains at large and may pose a threat,  at least by means of a guerrilla war, to the new  authorities.
Echoing comments made by Gaddafi and his son in recent  broadcasts from hiding, Ibrahim said: "Our army still controls  many regions of Libya. We will be able to capture Tripoli back  and many other cities in the near future. The fight is very,  very far from over. Within even a few weeks, a few months, even  a couple of years, we will have Libya back."
Around the Web