NORTH OF BANI WALID, Libya (Reuters) – Libyan forces have massed outside a pro-Gaddafi desert town that has refused to surrender, building a field hospital in preparation for a possible last stand.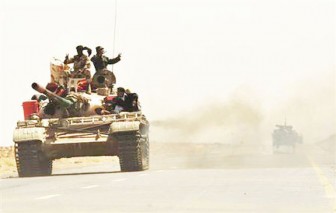 On-off talks involving tribal elders from Bani Walid, south of Tripoli, and a fog of contradictory messages in recent days, reflect the complexities of dismantling the remnants of Gaddafi's 42-year rule and building a new political system.
At a military checkpoint some 60 km (40 miles) north of the town on the road to the capital, Abdallah Kanshil, who is running talks for the interim government, told journalists a peaceful handover was coming soon. Nevertheless, a dozen vehicles carrying NTC fighters arrived at the checkpoint.
"The surrender of the city is imminent," he said yesterday. "It is a matter of avoiding civilian casualties. Some snipers have surrendered their weapons … Our forces are ready."
Similar statements have been made for days, however. With communications cut, there was no word from inside Bani Walid.
But 20 km closer to the town, NTC forces built a field hospital and installed 10 volunteer doctors to prepare for the possibility that Gaddafi loyalists would not give up.
"The presence of pro-Gaddafi forces in Bani Walid is the main problem. This is their last fight," said Mohamed Bin Dalla, one of the doctors. "If Bani Walid is resolved peacefully then other remaining conflicts will be also be resolved peacefully."
Forces loyal to the National Transitional Council (NTC) are also trying to squeeze Gaddafi loyalists out of his home town of Sirte, on the coast, and a swathe of territory in the desert.
Moussa Ibrahim — believed by the NTC to be in Bani Walid — said the deposed leader was in good health and good spirits somewhere in Libya in remarks broadcast yesterday.
"Muammar Gaddafi is in excellent health and in very, very high spirits," Ibrahim said.
"He is in a place that will not be reached by those fractious groups, and he is in Libya," Ibrahim told the Syrian-owned Arrai TV in response to a question on the whereabouts of Gaddafi.
Last week, a senior NTC military commander said he believed Gaddafi was in Bani Walid, 150 km south of Tripoli, along with his son Saif al-Islam, his former heir apparent.
"We will prevail in this struggle until victory," Ibrahim said. "We are still strong, and we can turn the tables over against those traitors and NATO allies."
Around the Web