TRIPOLI (Reuters) – The NATO bombing campaign which fatally weakened Muammar Gaddafi's rule had a secret asset: a 24-year-old Libyan woman who spent months spying on military facilities and passing on the details to the alliance.
The woman, operating under the codename Nomidia, used elaborate methods to evade capture — constantly changing her location, using multiple mobile telephone SIM cards and hiding her activities from all but the closest members of her family.
Her biggest protection against arrest by Gaddafi's security forces though was her gender: as a young woman in Libya's conservative Muslim society, they did not suspect her.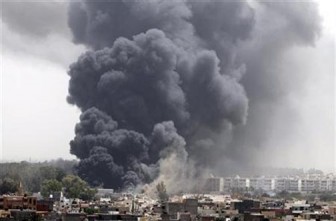 "I was not on the radar," the woman, an engineer, told Reuters in an interview in the lobby of a Tripoli hotel, two weeks on from a rebellion that broke Gaddafi's control over the Libyan capital after 42 years in power.
"They were concentrating more on the guys and it was almost impossible to think that a girl was doing all of this."
Nomidia spoke to Reuters on condition that her real identity not be revealed: she said that while Tripoli was now under control of a new interim government, there was still a "fifth column" of Gaddafi loyalists who might target her or her family.
The account she gave of her activities was corroborated by two other people who were part of an underground anti-Gaddafi network and helped her send details about his security forces.
"(She was) a very important source, and very trusted," said Osama Layas, a forensic pathologist who was a member of the network.
In Tripoli now, crude caricatures of Gaddafi dressed as a woman are pasted on checkpoints. The billboards bearing his image have been defaced or ripped down.
When Nomidia began her undercover role five months ago, Gaddafi and his security forces had a firm grip on the city and stifled any information which could be useful to his opponents.
Telephone lines were monitored, mobile phone text messaging was blocked, and the internet was available only to government offices and a group of foreign journalists who were kept under guard in a five-star hotel.
The city's prisons were full of people suspected of aiding anti-Gaddafi rebels or even just of passing information to someone outside Libya.
A tall, slender woman with a green chiffon scarf draped over her head, Nomidia said she felt compelled to act after the brutal way in which Gaddafi's forces put down the first stirrings of revolt in cities around the country.
"I could not help it when I saw what Gaddafi did in Benghazi first, in Misrata, in Zawiyah, in Tripoli, the Western Mountains," she said.
She began by calling Libya al-Ahrar, an anti-Gaddafi television station based in Doha, Qatar. With little real information leaking out of Tripoli, producers at the station put her voice on air — under the name Nomidia — with accounts of what was happening in the city.
Soon she was dialling in with details of military forces which the channel wanted to keep off the air to avoid alerting Gaddafi's government.
Around the Web