BOSTON (Reuters) – Kara Kennedy Allen, the only daughter of the late Senator Edward Kennedy, has died at age 51, a Kennedy family friend said yesterday.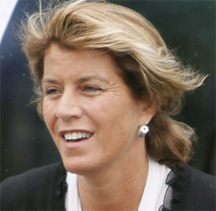 Kennedy died on Friday evening at a sports club in Washington, DC, according to an employee at the club who said the club would likely put out a statement next week.
The cause of death was not immediately known. Kennedy was diagnosed with lung cancer in 2002 but media reports said she had been in remission. They quoted her brother, Patrick, as saying her heart had given out.
Sean Richardson, a Kennedy family friend, said a statement would be issued shortly.
Kennedy was the oldest child of the late Democratic Senator and the mother of two teenage children, a son and a daughter.
A relatively low-profile member of the Kennedy clan, Kara Kennedy sat on the National Advisory Board of the National Organization on Fetal Alcohol Syndrome and on the board of the Edward M Kennedy Institute for the United States Senate.
Writing in the Boston Globe earlier this year, Kennedy talked about the importance of public service to the family.
"My father taught me and my siblings that we had a special obligation to help people because we were fortunate in so many ways," Kennedy wrote.
She also recalled summer road trips when Edward Kennedy "would load my brothers, cousins and me into a Winnebago and take us on historical roadtrips."
Around the Web