PARIS (Reuters) – The French media scorned what it called an insincere and staged TV apology by Dominique Strauss-Kahn for his sexual encounter with a New York hotel maid, with many noting he left the door ajar for a eventual political comeback.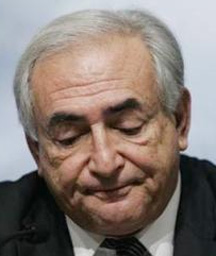 Up to 13.5 million viewers watched TF1's Sunday news show, the biggest audience since 2005 for a French news broadcast, to see the former presidential hopeful voice "infinite" regret over a liaison he called ill-advised but consensual.
Strauss-Kahn said he regretted his moral error but also decried the way he had been treated as a criminal over a private act he said did not involve force.
"Everything seemed pre-prepared, rehearsed, learned by heart, set up, as if it was pre-recorded," the left-leaning Liberation daily commented yesterday.
It was the first time Strauss-Kahn spoke at length to TV cameras since the New York sex assault case ended his career as IMF head and wrecked his chances of running in France's 2012 election, but many found his hand-wringing unconvincing.
Dressed in a dark suit and clearly uncomfortable discussing the nine-minute sexual liaison, Strauss-Kahn brandished a copy of the New York prosecutor's report to stress he had been cleared of using force.
"DSK: A funny kind of mea culpa," was the headline in the more mainstream daily Le Parisien.
"His Sunday contrition was half-hearted," editorialist Vicent Giret wrote in Liberation. "When you turned off the TV, you had a furious desire to move on to something else."
A Paris office worker, who gave his name as Jean-Marie, told Reuters Television: "It didn't seem very sincere, to be honest. It seemed prepared and a tad hypocritical."
Strauss-Kahn, widely known by his initials DSK, returned to France earlier this month after prosecutors dropped charges of attempted rape over his encounter with chambermaid Nafissatou Diallo in his luxury Manhattan hotel suite.
The case sparked an international media frenzy, putting an end to the former finance minister's immediate presidential ambitions and removing an influential voice from the world stage just as the global economic crisis calls for expertise.
Strauss-Kahn, formerly seen as the left's best chance of unseating the ruling conservative party, told TF1 interviewer Claire Chazal, a friend of his wife Anne Sinclair, he would stay out of the Socialist Party's 2012 election campaign and would take time to plan his next career move.
Around the Web