UNITED NATIONS (Reuters) – Libya's new flag flew at the United Nations yesterday for the first time since Muammar Gaddafi's overthrow as US President Barack Obama called for the last of the deposed leader's loyalists to stop fighting.
International leaders at a high-level UN conference on Libya congratulated Libyans — and themselves — for Gaddafi's removal by NATO-backed rebels in a seven-month-old conflict.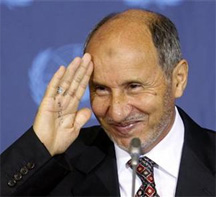 UN Secretary-General Ban Ki-moon, welcoming Libya's new leaders into the international community, said the Security Council had acted to protect the Libyan people from violence.
"Today, we must once again respond with such speed and decisive action — this time to consolidate peace and democracy," Ban added.
Libya has reverted to the flag that was used from 1951 until 1977 when Gaddafi, who ruled for nearly 42 years, introduced a green flag for his Libyan Arab Jamahiriya, or people's republic.
Libya's new rulers, finally recognized yesterday by the African Union, are still trying to dislodge well-armed Gaddafi loyalists from several towns and have yet to start a countdown toward writing a new constitution and holding elections.
They face questions about whether they can unify a country divided on tribal, regional and ideological lines.
Mustafa Abdul Jalil, president of Libya's ruling National Transitional Council (NTC), promised a spirit of tolerance and reconciliation and appealed for international assistance to help his country emerge from conflict and build democracy.
"Today, the Libyan people are writing a new chapter in the life of their nation," Obama said, announcing the return of the US envoy to Tripoli. "We will stand with you in your struggle to realize the peace and prosperity that freedom can bring.
"Those still holding out must understand — the old regime is over, and it is time to lay down your arms and join the new Libya," Obama said nearly a month after Gaddafi was driven from power with the help of a NATO-led bombing campaign.
He further pledged: "So long as the Libyan people are being threatened, the NATO-led mission to protect them will continue."
Gaddafi, who is on the run, taunted the Western alliance in a speech broadcast by a Syrian-based television station yesterday, saying: "The bombs of NATO planes will not last."
Obama also defended his Libya strategy. He had faced criticism for an initially slow response to the Libyan uprising and then setting limits on the US role in the NATO air campaign.
"Libya is a lesson in what the international community can achieve when we stand together as one," Obama said, but added: "We cannot and should not intervene every time there's an injustice in the world."
Obama pushed for swift steps toward democracy after decades of Gaddafi's quirky one-man rule, calling for "new laws and a constitution that upholds the rule of law … and, for the first time in Libyan history, free and fair elections."
Libya's interim Prime Minister Mahmoud Jibril failed to win approval for his proposed new cabinet on Sunday, but he said said in New York he expected a new government to be formed in the next week to 10 days.
The political infighting reveals some of the fractures in a leadership that was united in civil war by hatred of Gaddafi but remains split among pro-Western liberals, underground Islamist guerrillas and defectors from Gaddafi's government.
Gaddafi suffered a further diplomatic blow when the African Union recognized the NTC. It urged the new rulers to protect African migrant workers following reports of black Africans being targeted by fighters hunting pro-Gaddafi mercenaries.
South African President Jacob Zuma, whose country also abandoned its Gaddafi sympathies and recognized the NTC, urged the United Nations to lift the NATO-enforced no-fly zone over Libya soon, echoing a call by Russia last week.
A UN spokesman said international donors and organizations would meet later in the day to establish a Libya Recovery Trust Fund under the NTC's leadership to support rebuilding efforts.
The White House said it had held talks with the NTC on the gradual unfreezing of billions of dollars of Libyan assets.
"The NTC … are telling us they've got the money they need at this point," said Derek Chollet, director for strategic planning at the White House National Security Council.
"They're mindful that they don't want to be flooded with resources absent the institutions to manage them or the accountability that will be necessary to make sure they don't end up in the wrong hands or pilfered in any way."
White House deputy national security adviser Ben Rhodes said Libyan leaders were counting on renewed oil revenues once the country is stabilized and crude can start flowing again.
But he acknowledged that the NTC had no firm word on when that might happen. "I wouldn't suggest that there's an imminent announcement per se," Rhodes said
Around the Web