(Reuters) – The killing of chief peace negotiator Burhanuddin Rabbani has robbed Afghanistan of the only figure with the range of international contacts to end the conflict there, an influential Arab colleague said  yesterday.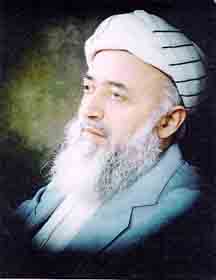 "Whoever killed Burhanuddin Rabbani, the intention was to kill any opportunity for peace and stability in Afghanistan," said Abdullah Anas, a former anti-Soviet fighter and Algerian Islamist activist who has worked behind the scenes in recent years to prepare contacts between warring Afghan factions.
"After this assassination, to be honest, I do not know what will happen … Any group who was behind this assassination meant to close the door of stability in Afghanistan."
Rabbani's killing at his Kabul home on Tuesday by a bomber claiming to be carrying a message of peace from the Taliban leadership has triggered fears of dangerous divisions in Afghans fighting the Taliban-led insurgency.
In the past year, Anas has assisted the High Peace Council overseen by Rabbani, a former Afghan president, guerrilla leader and academic, and a few weeks ago was named Rabbani's adviser for peace talks in Europe.
Speaking to Reuters from Britain, where he is now based, Anas said Rabbani's varied career in politics, academia and international Islamic circles, and his record of cooperating with Afghan ethnic groups in the anti-Soviet war of the 1980s, made him acceptable to many inside the country and out as an interlocutor in peace talks.
Regional rivalries, the competing demands of different groups inside Afghanistan and international counter-terrorism concerns have complicated the search for peace in Afghanistan and a negotiated settlement is likely to require contacts among a wide array of players, diplomats say.
Anas said Rabbani was not comparable to other politicians inside Afghanistan, most of whom were limited in their contacts due to ethnic or political background and therefore not well placed for the international mediation likely to be required.
"Some of them can visit Tehran, but not Riyadh. Some can visit Riyadh but not Tehran. Some can visit India, but not Islamabad. And vice versa – except one man (Rabbani). He was welcomed in Tehran as he was in Riyadh and in Islamabad."
"At the level of the agendas of the region, no one can have as good a chance for the future of peace talks as this man," he told Reuters.
Rabbani 'best man' to make peace
Some Afghans fear the country's most high-profile killing since the 2001 overthrow of the Taliban will re-open fractures from Afghanistan's civil war and make peace more elusive.
"Politically this assassination is assassinating stability and reconciliation in Afghanistan, because to target such a personality, so balanced politically and socially, it's at the heart of that goal. There is no way for happiness to come back to Afghanistan but through reconciliation. Nothing else," Anas said.
He said he was commenting on the political context of the killing "not about who will be found to have killed him after a legal investigation. This is the domain of the law."
Rabbani, a professor, president and mujahideen fighter, was the most prominent surviving leader of the ethnic Tajik-dominated Northern Alliance of fighters and politicians. In recent years he had formed an uneasy alliance with President Hamid Karzai, who comes from the largely Pashtun south, but the rapprochement and the push for talks with the Taliban were not supported by all of his old allies.
Not everyone is mourning Rabbani. His appointment was divisive, largely because of his mujahideen past and his role in the civil war that followed the fall of the Soviet-backed government and devastated Kabul.
But Anas said Rabbani had exceptional connections across Afghanistan's ethnic communities that were vital for peace talks. "Although he was a Tajik… his organisation during the Soviet war contained many, many big commanders from the Pashtuns, from Kandahar … Paktia, Jalalabad and elsewhere," he said.
"Rabbani was the best man to facilitate among the ethnic groups in Afghanistan. He was a moderate, reasonable voice among the nasty ethnic rivalries of Afghanistan."
Anas, head of the UK-based Taruf conflict resolution consultancy, was an aide to anti-Soviet guerrilla commander Ahmad Shah Massoud and fought Soviet troops in Afghanistan in the 1980s.
Around the Web