UNITED NATIONS (Reuters) – A divided UN Security Council met behind closed doors yesterday for its first discussion of last week's Palestinian application for full UN membership as a state, a move seen as certain to fail.
The meeting kicked off a process expected to take several weeks at least. It broke up after an hour with Lebanese Ambassador Nawaf Salam, this month's council president, saying the 15-nation body would hold a formal meeting tomorrow to refer the matter to its admissions committee.
"The process has started, and we hope that the Security Council will shoulder its responsibility and address this application with a positive attitude," Palestinian UN representative Riyad Mansour told reporters.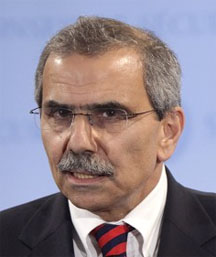 "This is an exercise in which there will be tremendous pressure by a certain number of countries on members of the Security Council, but we trust that we have many friends in the council."
In a dramatic move last Friday, Palestinian President Mahmoud Abbas submitted a UN membership application for a Palestinian state in the West Bank and Gaza Strip, with East Jerusalem as its capital, despite strong opposition from Israel and the United States, which say Middle East peace can come only through Israeli-Palestinian negotiations.
The Palestinians, who currently have observer status at the United Nations, say two decades of sporadic peace talks have led nowhere and their UN gambit aims to level the diplomatic playing field with Israel, a full UN member. Israel's ally the United States has vowed to use its veto to reject the application but if the Palestinians can muster nine votes in favour — the number needed to pass a resolution absent a veto — they would score a moral victory.
If they fail to do so, Washington would avoid the need to veto the application, which would bring diplomatic embarrassment and possibly spark anti-American protests in the Arab world.
Only six countries on the council appear certain to vote for Palestinian membership. The four European Union countries are expected to either abstain or vote against, while Bosnia, Colombia, Gabon and Nigeria have made no definitive statements and have been courted by both Israel and the Palestinians.
Mansour said Palestinian delegations were expected to visit Bosnia, Gabon and Nigeria in the near future, but he acknowledged that "we are not the only players in this game." Last week, the "Quartet" of Middle East mediators — the United States, Russia, the European Union and United Nations — presented Israel and the Palestinians with a timetable for new peace talks in the hope that, if accepted, it could relegate the UN membership row to the back burner.
The last talks broke down nearly a year ago, after Israel's resumption of settlement building in the West Bank on land the Palestinians want for a state prompted a Palestinian walkout.
The Palestinians have already signaled that they will not accept the Quartet proposals unless Israel halts settlements, something the Jewish state is seen as highly unlikely to do.
The two sides agree that a Palestinian state should exist alongside Israel, but on little else. They are divided on borders, the status of Jerusalem, the future of Palestinian refugees and whether Israel should be designated a Jewish state. If the Palestinian application is voted on and, as expected, fails, Abbas could go to the 193-nation UN General Assembly and request that Palestine be upgraded from an observer "entity" to an observer "non-member state."
That would implicitly recognize that Palestine is a state and could grant the Palestinians access to a number of UN and other international bodies.
Around the Web