LOS ANGELES, (Reuters) – In his final regular  appearance on the CBS newsmagazine "60 Minutes," Andy Rooney  expressed gratitude for a "lucky" life and thanked his fans,  but not without adding a touch of the curmudgeonly grumbling  that has become a signature element of his TV essays.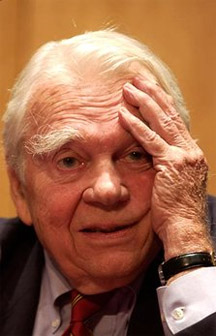 "I've done a lot of complaining here," the 92 year-old  Rooney said, "but of all the things I've complained about, I  can't complain about my life."
Sunday night's installment of "A Few Minutes with Andy  Rooney" capped a 33-year run for the end-of-show segment in  which Rooney famously commented on everything from trivial  items — often displaying collections of household possessions,  wanted and unwanted — to societal issues.
During his valedictory segment, Rooney thanked viewers for  their good wishes, while admitting that he's not comfortable  with adulation. "I wasn't always gracious about it," he said.  "I don't say this often, but thank you. Although if you do see  me in a restaurant, please, just let me eat my dinner."
His "60 Minutes" tenure wasn't without controversy. He was  suspended without pay in 1990 over on-air remarks that were  considered offensive to homosexuals, but quickly reinstated  after the CBS show experienced a sizable dip in audience share.  Four years later he apologized to viewers for comments about  musician Kurt Cobain's suicide that were deemed insensitive.
Around the Web