LOS ANGELES (Reuters) – Johnny Depp apologized yesterday for comparing photo shoots to being raped.
The Pirates of the Caribbean actor told the November issue of Vanity Fair in an interview that he found being photographed a "weird" experience.
"You just feel like you're being raped somehow. Raped. The whole thing. It feels like a kind of weird…just weird, man… Whenever you have a photo shoot or something like that, it's like – you just feel dumb. It's just so stupid," said Depp, 48.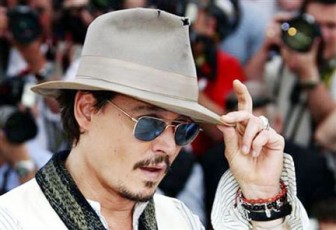 Depp released a statement yesterday apologizing for his "regretful" comments, after objections were raised by a rape victims support group.
"I am truly sorry for offending anyone in any way. I never meant to. It was a poor choice of words on my part in an effort to explain a feeling," Depp said.
"I understand there is no comparison and I am very regretful. In an effort to correct my lack of judgment, please accept my heartfelt apology," the actor added.
The group Rape, Abuse & Incest National Network (RAINN) had spoken out against Depp's initial comments, saying that "while photos may feel at times intrusive, being photographed in no way compares to rape."
The group said later it "appreciates and accepts" Depp's apology.
The A-lister's comments are similar to those that Twilight actress Kristen Stewart made in June 2010 when she compared being subjected to paparazzi photographs to rape.
Depp also discussed his large movie paychecks from films ranging from Alice in Wonderland to the blockbuster Pirates franchise. Vanity Fair estimated the actor's 2010 earnings at $100 million.
"Basically, if they're going to pay me the stupid money right now, I'm going to take it. I have to," he told the magazine. "I mean, it's not for me. Do you know what I mean? At this point, it's for my kids. It's ridiculous, yeah, yeah," said Depp.
The full interview will be on newsstands in New York and LA today and nationally on Oct 12.
Around the Web