NEW YORK (Reuters) – Watch out Oprah, there's a savvy pop star and an ambitious real housewife nipping at your financial heels.
Oprah Winfrey remained the entertainment world's top woman earner, but Lady Gaga and Bethenny Frankel, one of the original housewives in the "Real Housewives of New York," are moving quickly up the ranks of the rich, according to Forbes.com.
Winfrey held on to the top spot with $290 million in earnings from May 2010 to May 2011 and an estimated net worth of $2.7 billion.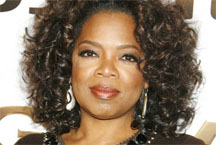 But Winfrey's daytime talk show, which she wrapped up in May, was her chief money earner and her newly launched cable network, OWN, has drawn paltry ratings since its January launch.
"The network has a long way to go before advertisers start paying the kind of rates Winfrey was charging for her syndicated show," said Forbes' Dorothy Pomerantz, who compiled the list by culling information from agents, managers, lawyers and others in the know.
Lady Gaga was a distant second with $90 million in gross earnings, followed by Frankel with $55 million. Frankel, who launched her own diet and lifestyle brand, sold her Skinnygirl Margarita cocktail mix for an estimated $100 million and has been expanding her brand, which will soon include food, supplements and a possible talk show.
Four women, model Gisele Bundchen, singer Taylor Swift, talk show host Ellen DeGeneres and Judge Judy Sheindlin, each earned $45 million last year and tied for fourth place.
Around the Web