CAIRO (Reuters) – Egypt's Coptic Christians turned their fury against the army yesterday after at least 25 people were killed when troops broke up a protest, deepening public doubts about the military's ability to steer the country peacefully towards democracy.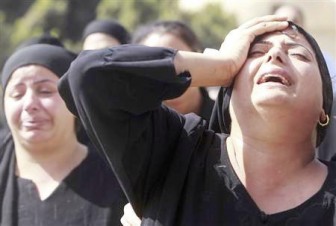 In the worst violence since Hosni Mubarak was ousted, armoured vehicles sped into a crowd late on Sunday to crack down on a protest near Cairo's state television.
Online videos showed mangled bodies. Activists said some people were crushed by wheels.
Tension between Muslims and minority Coptic Christians has simmered for years but has worsened since the anti-Mubarak revolt, which gave freer rein to Salafist and other strict Islamist groups that the former president had repressed.
But much of the anger from Sunday's violence targeted the army, accused by politicians from all sides of aggravating social tensions through a clumsy response to street violence and not giving a clear timetable for handing power to civilians.
Late yesterday, thousands marched from Cairo's main cathedral to the Coptic hospital where most of the wounded were treated, calling for religious unity and the removal of the head of the ruling military council, Field Marshal Mohamed Hussein Tantawi.
"Why didn't they do this with the Salafists or the Muslim Brotherhood when they organise protests? This is not my country any more," Alfred Younan, a Copt, said near the hospital.
Church leaders called for three days of fasting "for peace to return to Egypt".
The military council told the interim government to investigate the clashes urgently and said it would take necessary measures to maintain security, state TV said.
"This is a huge crisis that could end in a civil clash. It could end in dire consequences," said presidential hopeful Amr Moussa. "An immediate investigation committee must be formed, with immediate results."
The clashes overshadow Egypt's first parliamentary poll since Mubarak fell. Voting starts on Nov 28.
"One big problem Egypt faces now is that, increasingly, there is no one in power with the authority and credibility to calm the situation down," said a senior Western diplomat.
"After (Sunday's) events, there is an increasing risk that the military will come into conflict with the people. The authority of the prime minister is dangerously eroded. None of the presidential candidates yet has the standing."
Christians make up 10 per cent of Egypt's roughly 80 million people. They took to the streets after accusing Muslim radicals of partially demolishing a church in Aswan province last week.
They also demanded the sacking of the province's governor for failing to protect the building.
Around the Web