JOHANNESBURG,  (Reuters) – Former Cape Verde president  Pedro Verona Pires won the $5 million Mo Ibrahim award for  African leadership on Monday for shepherding his tiny Atlantic  Ocean island state from autocracy to prosperous democracy.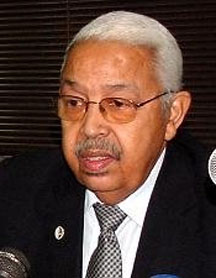 Organisers of the award, established in 2006 by Sudanese  telecoms tycoon Mo Ibrahim to improve the quality of African  governments, also praised Pires for his decision this year not  to run for office again after the expiry of his second term.
"Throughout his long career, President Pires has been  dedicated to the service of his people, including those in the  diaspora, while retaining his humility and personal dignity,"  the award committee said in a statement.
Previous winners of the prize, which can only be awarded to  an African head of state who has peacefully left office, include  Mozambique's Joaquim Chissano and Botswana's Festus Mogae.
There were no winners in 2009 and 2010 because of a lack of  suitable candidates, organisers said.
Pires, now 77, was prominent in Cape Verde's struggle for  independence from Portugal, and became prime minister in 1975, a  position that allowed him to pave the way towards the first  democratic elections in 1991.
Around the Web