CARACAS, (Reuters) – Of many surreal moments in the  life and times of Hugo Chavez, the flamboyant Venezuelan  leader's encounter with a puppet of himself this week was one  of the wackiest.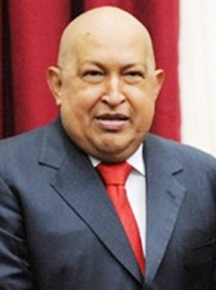 Despite his convalescence from cancer surgery and four  rounds of chemotherapy, the 57-year-old Chavez has since the  start of October been hitting the air-waves like the old days,  with phone-ins to state TV any time from dawn to midnight.
So when a supporter produced a life-sized puppet of the  'Comandante' on state TV, Chavez enthusiastically called in for  the third time that day and was expounding on indigenous land  rights when, embarrassingly, the puppet's trousers fell down.
"Tie them up, brother! You can't let Chavez's trousers fall  down," he laughed in a clip (http://tinyurl.com/6hgnf37) that  naturally has been a hit in cyber-space.
To supporters, the incident showed his sense of humor. To  detractors, it was buffoonery unbefitting of a president. The  wider message from his return to the air-waves was clear:  Chavez's energy-levels and omnipresence are returning.
"It's not time to die, it's time to live! To those who want  me dead, I tell them that soon my return will be complete,"  Chavez said in what has become a daily mantra.
Having disappeared from public view for several weeks in  June, when he had a cancerous tumor removed in Cuba, Chavez  first returned to Venezuela with a drastically curtailed  lifestyle, serious demeanor and sporadic public appearances.
His illness, and the specter of his disappearance from the  stage he has dominated since taking power in 1999, turned  Venezuelan politics upside down heading into an election year.
But more than three months on, Chavez says four rounds of  chemotherapy have been successful and tests he is due to take  in Cuba this weekend will declare him cancer-free.
He clearly feels upbeat, re-energized — and desperate to  show it. Yet cancer experts say it takes several years before  anyone can be confident they have beaten the disease.
"If you were my patient, and you said you had just finished  chemotherapy two weeks ago and you were cured, I would say that  is absolutely ridiculous," said a U.S. specialist, who asked  not to be named. "It is much too early to say."
 RAP AND RHETORIC  
As well as the regular phone-ins, Chavez has in recent days  been hosting events at his Miraflores presidential palace,  including the launch of a coalition he hopes will propel him to  re-election in an October 2012 vote.
At that event, he briefly danced a rap with young  Venezuelan singers and then chaired an hours-long meeting —  his longest public showing since the surgery in Havana.
Pushing a message that he remains firmly in control of  government, Chavez is also back to personally receiving  visiting dignitaries. In the last week, he has hosted  Palestinian President Mahmoud Abbas to rail against U.S. and  Israeli policies and signed a clutch of oil deals with Russian  deputy prime minister Igor Sechin.
While there has been plenty of laughter in the charismatic  Chavez's latest appearances, the tough streak that has  polarized Venezuela and made him one of the world's most  controversial figures has also re-emerged.
Around the Web