CARACAS, (Reuters) – Venezuelan politician Leopoldo  Lopez said yesterday he will maintain his campaign to win the opposition leadership and challenge leftist President Hugo  Chavez despite a court upholding his ban from office.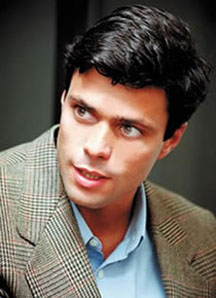 Flanked by his wife and about 200 cheering supporters,  Lopez declared he would not shrink from the Supreme Court's  ruling that he can run for office but not serve if he wins due  to past but unproven allegations of corruption.
"I can and will be a candidate for the president of  Venezuela," the charismatic 40-year-old said.
On Monday, the Supreme Court ruled against implementing a  decision last month by the Costa Rica-based Inter-American  Court of Human Rights that said Lopez's disqualification from  politics over graft charges was unjustified.
"The decision (to elect a president) is not for the IACHR  or the Supreme Court, that's only for the Venezuelan people to  determine," he shouted.
"They're wrong if they think we are just going to kneel  down."
Around the Web