GAZA/JERUSALEM,  (Reuters) – Israeli soldier Gilad  Shalit and hundreds of Palestinians crossed Israel's borders in  opposite directions yesterday as a thousand-for-one prisoner  exchange brought joy to families but did little to ease decades  of conflict.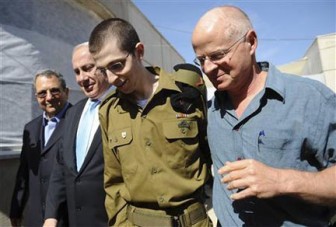 In one of the biggest such exchanges between the two sides,  Sergeant Shalit was flown to his parents' home in northern  Israel after more than five years held incommunicado by Hamas in  the Gaza Strip, while a first 477 of over 1,000 Palestinians in  the deal left Israeli jails for Gaza, the West Bank and abroad.
Hundreds of flag-waving wellwishers lined the streets of  Shalit's rural home town. Many danced as a ceremonial shofar  horn was blown when he arrived at nightfall after a day that he  began, as nearly 2,000 before, hidden away somewhere in Gaza.
In the Palestinian coastal enclave, Hamas's Islamist leaders  claimed vindication for uncompromising hostility toward Israel  that, on Tuesday at least, overshadowed the efforts of rivals  led by Palestinian President Mahmoud Abbas in the West Bank.
"I missed my family very much," a gaunt Shalit, his  breathing laboured at times, said in an interview with Egyptian  television as he was moved through Egypt from Gaza. "I hope this  deal will promote peace between Israel and the Palestinians."
But there was no sign from Israel or Hamas, an Islamist  group dedicated to its destruction, that the Egyptian-brokered  deal could be a starting point for dialogue.
"The people want a new Gilad, the people want a new Gilad,"  tens of thousands of people chanted at a rally in Gaza for freed  prisoners, urging that their fighters capture more soldiers to  help free some of the 5,000 Palestinians still held by Israel.
Israeli Prime Minister Benjamin Netanyahu, welcoming Shalit  home, warned the former prisoners they would be "taking their  life into their own hands" if they "returned to terror".
Defending a deal that left a bittersweet aftertaste in  Israel, Netanyahu said he felt the pain of the relatives of  Israelis killed by some of the Palestinians released, but saving  a soldier from captivity was a Jewish Biblical imperative.
"It is a difficult day," he said, describing the price  Israel paid for Shalit's release as high.
Shalit was taken across the frontier from the Gaza Strip  into Egypt's Sinai peninsula and driven to Israel's Kerem Shalom  – Vineyard of Peace – border crossing, from where a helicopter  flew him to an Israeli air base for a reunion with his parents.
Simultaneously Israel freed 477 Palestinian prisoners, most  of them to the Gaza Strip and many serving life terms for  attacks that killed Israelis. Hamas leaders greeted former  prisoners piling off buses bearing Red Cross insignia.
Under the terms of the deal, 40 of those who had been jailed  for involvement in deadly attacks were being deported from  Palestinian territory. Turkey confirmed it would take in around  10, while others were destined for Syria and Qatar.
Egypt helped to mediate the long-awaited deal, and its  army-backed interim government has sought to revive a role as a  diplomatic linchpin in the Middle East.
Palestinians, awaiting the release of prisoners at a West  Bank checkpoint, hurled rocks at Israeli soldiers, who responded  with tear gas, after the military announced to the crowd over a  loudspeaker that the group had been taken to another crossing.
Around the Web