LOS ANGELES, (Reuters) – Using contentious barbs and  comedic relief, Rupert Murdoch deflected attempts by angry  investors to remove him as chairman of his News Corp empire at  the company's annual meeting today.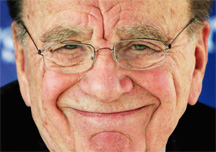 The 80-year-old media baron survived what was effectively a  no-confidence vote and also managed to get his sons James and  Lachlan reelected as directors.
The octogenarian began the meeting with perfunctory  comments about being personally determined to right News Corp's  wrongs, saying it must be an ethical company and that it had  been subject to fair criticism and unfair attack. But that was  as conciliatory as he got.
Unlike his sons Lachlan and James, who sat quietly during  the 75-minute meeting, Murdoch stood defiant in the face of  tough questioning about News Corp's corporate governance, a  proposal to strip him of the long-held chairman role that goes  along with his CEO title, and fresh allegations of computer  hacking that piggyback off the phone hacking charges  responsible for putting Murdoch in his precarious position.
In addition to the roughly 150 people inside the Zanuck  Theatre on the Fox Studios lot in Hollywood, about 100 others  stood outside, voicing opposition to the company and carrying  signs that read, "Murdoch isn't above the law" and "Big Media,  Big Money, Get Out."
Murdoch was feistier than he had been during questioning by  a special committee of Parliament in July.
British member of parliament Tom Watson, Australian pension  fund representative Stephen Mayne and Julie Tanner of the  Christian Brothers Investment Service were among those who  sparred with Murdoch. Mayne, a longtime News Corp antagonist,  and Murdoch, who employed his familiar tactic of pounding the  table to stress a point, circled each other like familiar  opponents.
"It is time to get on the governance high road. You've been  treating us like mushrooms," said Mayne, who has attended more  than a decade's worth of these meetings.
Later, in response to Mayne's comment that he was not sure  how he planned to vote his shares, Murdoch shot back, "I hate  to call you a liar, but I don't believe you. I know how you're  going to vote."
Fireworks
The real fireworks were supplied by Watson, who flew to Los  Angeles to attend the meeting as the representative of 1,669  shares of nonvoting stock held by labor group AFL-CIO. At his  first opportunity to speak, Watson noted the "deep irony" of  News Corp using images of Prince William and Kate Middleton  during its presentation since both were alleged phone hacking  victims.
He said News Corp could face new investigations in the UK  by the country's Serious Organised Crime Agency, stemming from  the actions of at least three private investigators employed by  News International, News Corp's UK newspaper publishing unit.  Murdoch has failed to warn shareholders of the possibility of  new civil lawsuits, Watson said.
"I promise you absolutely that we will stop at nothing to  get to the bottom of this," Murdoch said in response to  Watson.
Despite the animosity between the two, Murdoch jokingly  defended News Corp's democratic voting process by pointing out  that its Fox Business channel had featured Watson earlier in  the day.
"We're fair and balanced," he said, referencing to the  company's familiar slogan.
After the meeting, Watson told reporters that he was  pleased to have had the opportunity to bring the issues to the  attention of investors, even if board members "didn't choose to  acknowledge the points I made."
"I made my serious points … the board can choose to  ignore me if they like," he said.
Watson said he was sure the issues brought up during the  meeting would be put to James Murdoch when he returns to  Parliament for more questioning next month.
Around the Web